September 22, 2009
Stingers to host Laval in first-place rugby showdown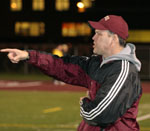 The No. 7-ranked Concordia Stingers will host the No. 4-ranked Laval Rouge et Or in a game that will decide first place in the Quebec women's rugby conference this Friday at 6:30 p.m. at Concordia stadium.
"It's the biggest game of the year," said Stinger head coach Graeme McGravie. "It's all we've been talking about since training camp started a month ago."
The Stingers boast a 6-0 win-loss record, including four preseason victories. The Rouge et Or are 3-0 with one exhibition win. The teams have identical 2-0 records in Quebec league action. Concordia has outscored its Quebec opponents 137-0. Laval has outplayed its opposition 145-5.
The Friday game is the only regular season meeting between the two sides. The last time Concordia and Laval met was in the Quebec championship on Oct. 26, 2008. The game ended in a 20-20 tie. Laval was given the victory and a berth at the nationals based on a tie-breaking formula.
"The two teams know each other well and we match up really well," said McGravie.
The Concordia men's team, which is also undefeated in two starts, will host the Sherbrooke Vert et Or immediately after the women's game.