December 16, 2010
Erin Lally added to FISU hockey team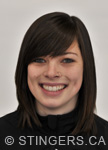 Concordia Stinger right wing Erin Lally has been added to the women's hockey team representing Canada at the 2011 Winter Universiade in Erzurum, Turkey from Jan. 27 to Feb. 6.
Lally, a native of Calgary, is the leading scorer on the Stingers. In nine regular season games, she has six goals and four assists for 10 points.
The Art History student received a late invitation to join the team after another player dropped out of the program. She was the first alternate for Team Canada.
She will join Concordia's Les Lawton who will serve as head coach of Canada's entry at the 24th Winter World University Games. The Stinger duo leave for Turkey via Frankfurt, Germany on Jan. 23.
"Erin has the ability to put the puck in net," said Lawton. "I'm eager to see her play her game at this level."
In Erzurum, the women's hockey tournament will be a six-team competition with Finland, Slovakia, Great Britain, the US and host Turkey also vying for glory.
Canada is set to open the five-game round-robin competition against Finland on Jan. 27 and faces the USA in its fourth match on Jan. 31. The top four teams at the end of the preliminary round advance to the semifinals.
In 2009, the Canadians went a perfect 5-0 in round-robin play with wins over Great Britain (11-0), Finland (5-0), Slovakia (6-3), China (7-1) and Japan (4-1). They went on to defeat Slovakia 10-1 in the semis before downing China 3-1 in the final.
The Universiade is an International multi-sport event, organized for university athletes by the International University Sports Federation (FISU). The name is a combination of the words "University" and "olympiad".