February 7, 2011
Lawton, Lally bring home hockey gold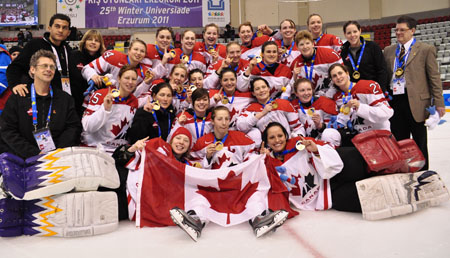 Under the direction of Concordia Stingers head coach Les Lawton, Canada won the gold medal in women's hockey with a 4-1 win over Finland in the championship game at the 25th Winter Universiade in Erzurum, Turkey on Saturday afternoon.
"It's a great moment for us," said Lawton afterwards. "We're a team that came together over the last two weeks and we accomplished what we came here to do.
"Our players did a great job of stepping up and embracing the other teams. You could see we have the respect of the other countries and that's very rewarding."
The team comprised exclusively of Canadian Interuniversity Sport (CIS) all-stars, including Concordia right wing Erin Lally, finished the tournament with a perfect 7-0 win-loss record. Canada won five preliminary games and defeated the United States 8-1 in semifinal action last Friday.
Canada also claimed gold in 2009 in Harbin, China, when women's hockey made its Universiade debut. The Canadians beat China 3-1 in the 2009 final.
Kevin Figsby, head coach of the Stingers men's team, was also in Erzurum as an assistant with Canada's entry in the men's hockey competition. His team won a bronze medal at the Games. Canada lost to Russia 4-2 in the semifinals, but bounced back to defeat Kazakhstan 3-1 in the third-place game yesterday.
The Universiade is an international multi-sport event organized for university athletes by the International University Sports Federation (FISU). Summer and Winter Games are held every two years.