February 25, 2011
Doyon-Lessard named women's hockey MVP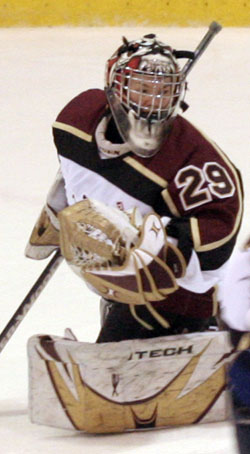 Concordia Stingers veteran goaltender Audrey Doyon-Lessard was named the outstanding player in Quebec university women's hockey league when the honor roll was released this week.
The Charny, Que. native played in 20 games, posting a 2.74 goals-against average with a save percentage of .924. She helped the Stingers post an 8-9-3 record and secure third place in the five-team conference.
The fifth-year athlete is working on a Certificate in Business Administration at Concordia.
Ironically, Doyon-Lessard was a second team all-star in the conference. Joining her on the second team is second-year right wing Erin Lally. The Calgary native was the leading scorer on the Stingers with nine goals and eight assists for 17 points in 17 games.
Lally is an Art History major.
Centre Alyssa Sherrard of Bathurst, N.B. was named to Quebec's all-rookie team. She scored six goals and added seven assists for 13 points in 20 games.
Sherrard is studying Applied Human Science.