February 26, 2012
Wrestlers win eight medals and menís title at nationals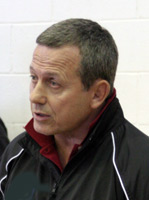 The Concordia Stingers wrestling team, under the direction of head coach Victor Zilberman, won eight medals and a second consecutive men's championship at CIS nationals in Thunder Bay, Ont. on the weekend.
Five medals on the men's side, including gold medals from David Tremblay (61 kg), who won his fourth gold medal at nationals, and James Mancini (65 kg) gave Concordia the men's championship.
It's the eighth team title for the Stingers men's wrestling team, dating back to 1977.
Zilberman had nine wrestlers competing across 10 weight classes on the men's side. The team finished with 56 points. University of Regina was second with 54 points.
Other Concordia wrestlers contributing to the championship were: silver medallist Scott Schiller (72 kg); Greg Rossy (130 kg) and Nariman Irankhah (82 kg.) with bronze medals; Noel Tremblay (57 kg) and Mitch Krauter (76 kg) with fourth-place finishes; Stephen de Layen who was fifth at 68 kg and Trevor Banks who was seventh at 54 kg.
On the women's side, all three Concordia competitors won medals. Nikita Chicoine (63 kg) won a silver medal, Veronica Keefe (72 kg) was a bronze medallist and Linda Morais (59 kg.) won a bronze medal.
With 20 points, the women's team finished ninth out of 13 schools in the standings.
In addition, Zilberman was named the CIS Coach of the Year in men's wrestling. It was the fifth time he received the coaching honor. His previous awards came in 2011, 2006, 1986 and 1984.