November 5, 2012
Farella, Fortin named PJ's Pub Athletes of the Week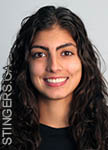 Bianca Farella of the women's rugby team and Yannick Fortin of the men's rugby team have been named the PJ's Pub Concordia Stingers athletes of the week for the period ending Nov. 4.
Farella, a first-year centre, scored four tries and was a two-time Player of the Match at the CIS women's rugby nationals last week. She scored two tries in a 29-0 victory over the Queen's Gaels in a preliminary round game last Friday. She was the Stingers' MVP in a second round-robin game, a 40-0 loss to the St. Francis Xavier X-Women, on Saturday. Farella scored two tries in a 34-15 loss to the Alberta Pandas in the bronze medal game on Sunday.
A 20-year-old native of Montreal, Farella is currently studying Behavioral Neuroscience at Concordia.
Fortin, a first-year fly half with the Stingers, scored two tries and made a convert to help Concordia defeat the Bishop's Gaiters 39-7 in a key RSEQ game on Sunday. With the win, the Stingers clinched first-place in the Quebec conference and home-field advantage throughout the playoffs. Fortin also dominated and manipulated the Bishop's defence with his varied attacks (run, pass, kick). He put them under enormous pressure and opened huge gaps and opportunities for Concordia to score.
The 21-year-old student from Montreal studies Finance at Concordia.