November 9, 2012
Menís rugby hosts Sherbrooke in semis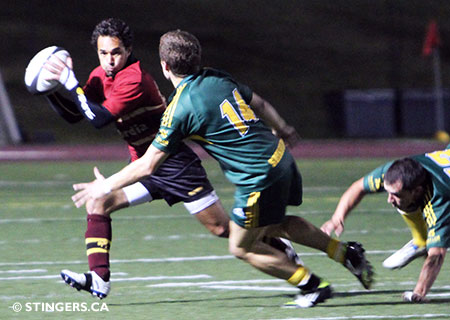 The Concordia Stingers men's rugby team will open the post-season by hosting the Sherbrooke Vert et Or in RSEQ semifinal action tonight at 7:30 p.m. at Concordia stadium.
With a 39-7 win over the Bishop's Gaiters on the last day of the regular season, the Stingers clinched first place and home-field advantage throughout the men's rugby playoffs.
Concordia finished the eight-game league schedule in first place with a 6-2 win-loss record. The last time the Stingers won the regular season title was 2001 when they posted a 7-1 record.
Concordia and Sherbrooke met twice this fall, with each team winning once. The Vert et Or won the season opener 14-13 on Sept. 7 in Montreal. The Stingers prevailed in the rematch by a score of 26-17 in Sherbrooke on Oct. 14.
The third-place McGill Redmen travel to Lennoxville to play Bishop's in the other semifinal.
Tickets will be sold for the Stingers semifinal. The price is $5 with all proceeds going back to support the Concordia program.