November 12, 2012
Barrett, Vuong named PJ's Pub Athletes of the Week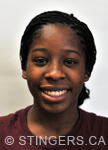 Kaylah Barrett of the women's basketball team and Kim Haze Vuong of the men's rugby team have been named the PJ's Pub Concordia Stingers athletes of the week for the period ending Nov. 11.
Barrett, a third-year forward, scored 21 points to lead the Stingers to a 77-72 victory over the UQAM Citadins in the Quebec conference season opener last Wednesday. She also collected five defensive rebounds, two assists and two steals. The 2012 all-Canadian and the rest of the Stingers will host their home-opener versus the Laval Rouge et Or this Thursday at 6 p.m.
A 21-year-old native of Brampton, Ont., Barrett is currently studying in the Faculty of Arts and Science at Concordia.
Vuong, a first-year flanker with the Stingers, scored two tries to help Concordia defeat the Sherbrooke Vert & Or 31-17 in RSEQ semifinal action last Friday. He was successful despite not playing his normal position as he switched to the 8-man slot, taking over from an injured teammate. He also played a major role on defence, making numerous massive sticks and turning over the ball to start the counter attack.
The 21-year-old student from Montreal studies Psychology at Concordia.