November 18, 2012
Rugby Stingers set to tackle McGill at championship game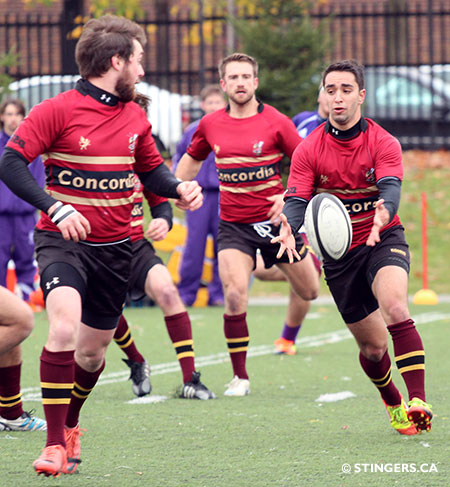 For the fifth time in eight years, the Concordia Stingers and the McGill Redmen will meet in the Quebec university men's rugby championship game. The RSEQ title match takes place today at Concordia stadium at 1 p.m.
The Redmen have taken three of the four championship showdowns (2006, 2010 and 2011), while the Stingers are looking for their first title since the 2005 clash.
"The two teams are very close," said Concordia head coach Clive Gibson. "The last game between us was determined by a single try. Both teams left points on the board with mental errors and handling errors. Chances are the winner this afternoon will be the team that makes the fewest errors."
McGill won both contests in the regular season – 22-10 on Sept. 12 and 13-6 on Oct. 3. The Stingers have a plan to break that streak.
"First, the forwards have to front up and ensure that we have a solid platform and quality ball to operate with," Gibson said. "If we can get this, follow the game plan and exploit the space provided quickly then our attack should be solid.
"On the defensive front, every man on the field has to work non-stop to match up and be in position to make the stops and close the space without taking penalties. In games that are decided by a try or less, every penalty can be a nail in the coffin if the kicker is hot.
"We have worked all year on getting ready for this game. Now it is up to the players to 'beelieve' and get it done."
There is a $5 cover charge to attend the game. If you can't make the match, you can still follow the action on the Webcast. You can find the link on stingers.ca.