November 18, 2012
Silver medals for menís rugby in finals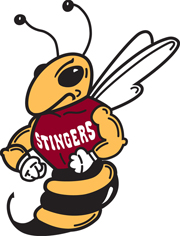 For the third consecutive year, the Concordia Stingers men's rugby team finished the season as the RSEQ silver medallists.
The Stingers lost 24-18 to the McGill Redmen before a crowd of approximately 300 at Concordia stadium on Sunday afternoon.
It was an intense battle and the game was up for grabs right until the final seconds.
McGill opened the scoring on a try from Ian Carvalho-Campos 15 minutes into the game. On back-to-back penalty goals from Joey Fulginiti, Concordia took a 6-5 lead with 3:30 left in the half. Zerchary Miller scored a last-minute try that was converted by Cameron Perrin, and the Redmen had a 12-6 lead at halftime.
McGill stretched the lead to 19-6 on a try by Josh Blair and a Cameron Perrin convert eight minutes into the second half. Concordia replied five minutes later with a try from Alfredo Cosentino, and the score was 19-11.
The teams traded punches one last time. The Redmen had a try from Rob Ashe with 17 minutes left to play and the Stingers answered with a try from Dario Pellizzari and a convert from Fulginiti with two minutes left in the game.
Although the Stingers had the momentum late in the game, they could not beat the clock, and game ended with a 24-18 win for McGill.
It was the seventh straight RSEQ men's rugby championship for the Redmen. The last time they lost was in 2005 when Concordia took the Quebec title with a 20-18 victory.
The man of the match for Concordia was No. 8 Marc Roche, while the outstanding player for McGill was lock Thomas Gagnon.