November 20, 2012
Roy-Viau, Chmielewski named PJ's Pub Athletes of the Week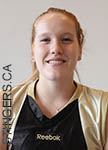 Marilyse Roy-Viau of the women's basketball team and Adam Chmielewski of the men's basketball team have been named the PJ's Pub Concordia Stingers athletes of the week for the period ending Nov. 18.
Roy-Viau, a first-year forward, helped the Stingers win two games last week. In a 64-58 victory over the Laval Rouge et Or last Thursday, she had 16 points, eight rebounds and a block. Two days later she collected 12 points, five rebounds and a block in a 63-42 win over the Bishop's Gaiters. Her efforts have helped the Stingers post a 3-0 win-loss record in RSEQ action this fall.
A 20-year-old native of Mirabel, Que., Roy-Viau is currently studying Family Life Education at Concordia.
Chmielewski, a second-year point guard with the Stingers, was instrumental in helping his team secure two victories last week. He scored eight points and added six assists in Concordia's 90-62 win over the Laval Rouge et Or last Thursday. He picked up 15 points and six assists in a 77-76 victory over the Bishop's Gaiters on Saturday. The two wins give the Stingers a perfect 3-0 record in conference play this semester.
The 22-year-old student from Montreal studies Economics at Concordia.