November 26, 2012
John Bower joins Concordia athletic department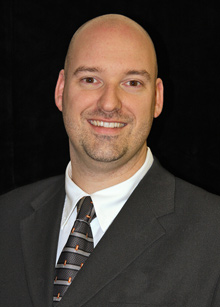 Director of Recreation and Athletics, Katie Sheahan, is pleased to announce John Bower will join Concordia University as Associate Director of Student Athlete Services as of Dec. 17, 2012.
He will be responsible for administration of interuniversity sports, including the supervision of each sport program, as well as athletic therapy and academic support services for student athletes.
Bower comes to Concordia from the RSEQ (Réseau Sport Étudiant du Québec) where he has held the position of Director of University Sport for the past two years.
He earned his degree in Communications from the University of Windsor and has more than 10 years of experience in the world of university sport. Before joining the RSEQ in 2010, Bower held positions at the University of Windsor, the OUA (Ontario University Athletics) and the University of Ottawa.
Bower's knowledge, experience and passion for the world of interuniversity sport is well established. He possesses a wealth of experience working directly with directors of athletics and their staff teams in universities across the province as well as leaders within the provincial and national sports organization network.
"I'm pleased John has agreed to take on this important challenge," says Sheahan. "His experience in interuniversity sport administration and development, together with his background in communications, will be a tremendous asset to Concordia's efforts to provide an outstanding student athlete experience."