November 26, 2012
Barrett, Kabbaj named PJ's Pub Athletes of the Week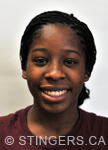 Kaylah Barrett of the women's basketball team and Youssef Kabbaj of the men's hockey team have been named the PJ's Pub Concordia Stingers athletes of the week for the period ending Nov. 25.
Barrett, a third-year forward, scored 21 points to lead the Stingers to a 72-63 victory over the McGill Martlets in RSEQ action on Saturday. She also had six rebounds, four assists and two steals in the game versus Concordia's crosstown rivals. The win leaves the Stingers in first place in the Quebec conference with a perfect 4-0 win-loss record.
A 21-year-old native of Brampton, Ont., Barrett is currently studying in the Faculty of Arts and Science at Concordia.
Kabbaj, a first-year defenceman with the Stingers, was instrumental in helping his team secure two victories last week. He was the most reliable defenceman on the ice in a 6-5 victory over the Nipissing Lakers and a 4-0 win over the Ryerson Rams. He was a plus-4 over the course of the two games. He was also credited with an assist on the winning goal in the Nipissing game.
The 20-year-old student from Montreal studies Political Science at Concordia.