November 25, 2012
Victories give Stingers menís hockey team a lift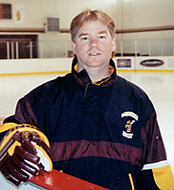 The Concordia Stingers men's hockey team won two games on the weekend, building momentum heading into the December break for exams.
The Stingers defeated the Nipissing Lakers 6-5 last Friday, claiming the game in spectacular fashion when second-year right wing Etienne Archambault scored the winning goal with three seconds left to play.
The following day, Concordia defeated the Ryerson Rams 4-0. Loic Boivin, also a second-year player, turned away 39 shots to earn the shutout.
"For a young team struggling to score goals, I think the weekend allowed us to gain confidence," said head coach Kevin Figsby.
"We scored 10 goals over the weekend, had a come-from-behind victory, registered our first shutout in three years and played well as a team through both games."
Concordia moves into eighth place in the 10-team OUA East Division. The Stingers have a 4-9-1 record for nine points.
The team wraps up the first half of the season with two road games this weekend. Concordia meets the Queen's Golden Gaels in Kingston, Ont. on Friday and the Toronto Varsity Blues on Saturday.