November 29, 2012
Caron, Tremblay earn top honours at gala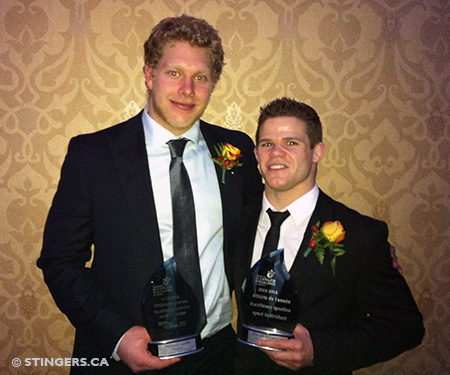 Two Concordia Stinger athletes were among the big winners when the Fondation de l'athlete d'excellence du Québec (FAEQ) honoured the top university athletes from the 2011-12 season at its annual gala dinner in Montreal on Wednesday night.
Wrestler David Tremblay won the award as the top male athlete in an individual sport. In recognition of his accomplishments Tremblay received a $2000 bursary from the FAEQ.
Tremblay won his fourth straight gold medal at the CIS nationals last February. His efforts helped the Concordia men's team win the championship. He also represented Canada at the 2012 London Summer Olympics.
Caron, a linebacker with the Stingers, won the award for the outstanding male athlete in a team sport. He accepted a $2000 cheque from the foundation.
He won the President's Trophy as the outstanding defensive player in Canada in 2011. He had a major impact on the national statistics leading the country in tackles (78.5), average tackles per game (8.7) and interceptions returned for touchdowns (3).
Other Stingers who received recognition for their 2011-12 achievements were: women's basketball's Kaylah Barrett, Hughanna Gaw of the women's rugby team, men's basketball's Evens Laroche and wrestling coach Victor Zilberman. The Concordia men's wrestling team was also a finalist for team of the year.
Finally, four athletes received recruitment bursaries: Bianca Farella, women's rugby; Roman Grozman, football; Jordan Steen, wrestling, and Marilyse Roy-Viau, women's basketball.
The FAEQ is an independent organization comprised of stakeholders from different backgrounds, including business, education and sport. Its mission is to provide financial support to elite student-athletes and to promote them as role models in Quebec society.