January 12, 2013
Gritty Stinger cagers move into top spot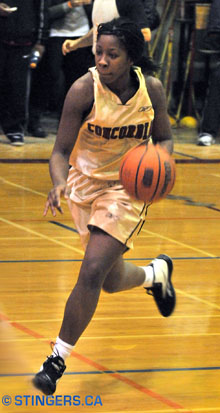 The Concordia Stingers women's basketball team clawed its way into first-place in the RSEQ with a gritty 67-57 victory over the UQAM Citadins at Concordia gym on Saturday afternoon.
The Stingers now have a 5-2 win-loss record and are in a first-place tie with the Citadins in the Quebec conference. The victory was critical to staying on par with the top teams in the CIS, especially since Concordia struggled in a sloppy loss to the McGill Martlets last Thursday.
"We displayed a lot of toughness against a very good UQAM team," said Stinger head coach Keith Pruden. "We showed a lot of character bouncing back from a discouraging performance on Thursday."
Concordia relied on strong play and leadership from guard Ashley Clarke, who scored 11 points and picked up five rebounds. All-Canadian forward Kaylah Barrett was also impressive with 21 points and seven rebounds.
"It was encouraging to see such a young team display composure," Pruden said of the effort in the intense and physical game. "Hopefully we can continue the positive momentum."
This was the first week of conference play in Quebec. Concordia defeated the No. 1-ranked Windsor Lancers and the No. 5-ranked Carleton Ravens over the holiday break.
The next game for the Stingers is Saturday, Jan. 19 at 2 p.m. when they host the Bishop's Gaiters.