February 5, 2013
Barrett, Lovatsis PJ's Pub Athletes of the Week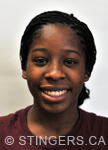 Kaylah Barrett of the women's basketball team and George Lovatsis of the men's hockey team have been named the PJ's Pub Concordia Stingers athletes of the week for the period ending Feb. 3.
Barrett, a third-year guard, was impressive in two games last week. She had 16 points and a rebound in a 71-66 victory over the McGill Martlets last Friday. She scored 24 points and added eight rebounds in a 67-61 loss to the Laval Rouge et Or on Saturday. Barrett is currently second in the Quebec conference with an average of 16.1 points a game.
A 21-year-old native of Brampton, Ont., Barrett is currently studying in the Faculty of Arts and Science at Concordia.
Lovatsis, a fourth-year centre with the Stingers, helped Concordia pick up three points in two games last week. He set up the only goal of the game in a 1-0 victory over the Nipissing Lakers last Friday. The following day, he had a goal and an assist in 5-4 shootout loss to the Ryerson Rams.
The 23-year-old student from Markham, Ont. studies in the Applied Human Sciences program at Concordia.