February 7, 2013
5 LOIs from Ontario for football team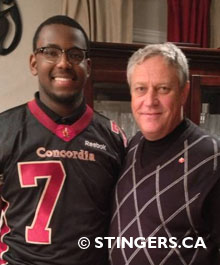 The Concordia Stingers football program is pleased to announce five Ontario football players have signed LOIs and will join the team this August.
Leading the way is punter Clark Green from Chatham-Kent Secondary School. He was a member of Team Ontario West in 2011 and he earned Golden Horseshoe all-star honors in 2011 and 2012. He checks in at six foot three, 185 pounds.
"He's the best high school punter I've seen in many years," said Concordia head coach Gerry McGrath.
A couple big ends from Mississauga, Ont. will help shore up the defensive line.
Rivver Griffith is a six-foot-two, 240-pound product of the Mississauga Warriors in the OVFL.
"He's very good and explosive," McGrath said. "He plays nasty. He's a great young football player."
Jonathan Langma is a transfer student from St. Francis Xavier University where he played through the 2011 season. He also represented the X-Men in the East-West Bowl last May. The Stingers recruited the six-foot-two, 275-pound Langma a few years ago.
"We finally got our guy," McGrath said.
Shaquille Davis, a safety from Richmond Hill, Ont., is also a big addition to the defence.
In 2011, Davis played with Stinger offensive tackle Roman Grozman at Milford Academy in New Berlin, N.Y. It is a private prep school that is well-known for developing elite football players, including Shonn Greene of the New York Jets and Marcel Shipp of the Arizona Cardinals.
Last summer, the six-foot-three, 210-pound defensive back was a member of the Canadian junior national team and competed in the IFAF U19 World Championship in Austin, Texas.
Finally, the Stingers have signed Jordan Oliver, a six-foot-four, 340-pound lineman who can play on both sides of the ball. The Scarborough, Ont. native comes out of Sir Wilfrid Laurier High School.
"He's very strong and very athletic," McGrath said.