February 11, 2013
Roy-Viau, Mastropietro PJ's Pub Athletes of the Week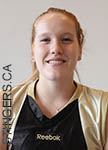 Marilyse Roy-Viau of the women's basketball team and Antonio Mastropietro of the men's hockey team have been named the PJ's Pub Concordia Stingers athletes of the week for the period ending Feb. 10.
Roy-Viau, a rookie forward, had a great performance in a 69-45 victory over the Bishop's Gaiters in Lennoxville, Que., on Sunday. She led all scorers in the game with 20 points. She also chipped in with six rebounds.
A 21-year-old native of Mirabel, Que., Roy-Viau is currently studying Family Life Education at Concordia.
Mastropietro, a first-year goaltender with the Stingers, helped Concordia split a pair of games to wrap up the season. He was a big factor in Concordia's 3-2 shootout victory over the Queens Gaels last Friday. He stopped 42 of 44 shots on goal during the game and then shut down six players in the shootout. The following day, he turned away 31 of 33 shots in a tough 2-1 loss to the Toronto Varsity Blues.
The 21-year-old student from Montreal is studying in the Faculty of Arts at Concordia.