February 19, 2013
Mpondani, Tremblay PJ's Pub Athletes of the Week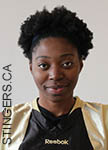 Tina Mpondani of the women's basketball team and Noel Tremblay of the wrestling team have been named the PJ's Pub Concordia Stingers athletes of the week for the period ending Feb. 17.
Mpondani, a third-year centre, had an exceptional performance in an 81-58 victory over the UQAM Citadins last Thursday. She scored a double double with 11 rebounds and 12 points. She also chipped in with five assists. The win guaranteed the Stingers one of the top two spots in the conference and a home semifinal game.
A 24-year-old native of Montreal, Mpondani is currently studying in the Faculty of Arts at Concordia.
Tremblay, a second-year athlete, earned his second consecutive trip to the CIS national championship on the weekend. He won the 57-kilo weight class at the Quebec-Atlantic qualifying tournament in Fredericton on Saturday. It was his first competition after rehabilitating an injury for several months. His coaches applauded both his courage and his performance.
The 20-year-old student from Point-aux-Roches, Ont. is studying in History at Concordia.