Main » Camps » After School Basketball
After School Basketball Program
2019-20
Join the Stingers basketball team as it leads and trains future stars. The sport of basketball is on the rise in Quebec and Canada and this is a tremendous opportunity to join the movement. The after school program will teach you the game. Learn basic skills, key concepts and good training habits to compete at all levels. Do you love the game of Basketball? Do you aspire to be the best you can be?
TRAINING: 
Shooting 
Passing
Footwork
Layups
Ball-handling
pacing/Movement without the ball
Cutting/V-Cut, L-Cut, Back door cut
Left and right hand development
AGES: Grades 3-4, 5-6, 7-8
TIME: Tuesdays from 5 to 6 p.m.
COST: $145 per session

DATES:
Session one
2019
October 1, 8, 15, 22, 29
November 5, 12, 19, 26
December 3


Session two
2020
January 7, 14 21, 28
February 4, 11, 18, 25
March 10, 17
LOCATION:
Concordia Gymnasium
7200 Sherbrooke St. W., N.D.G
INFORMATION:

514-848-2424, ext. 5979
concordia.camps@concordia.ca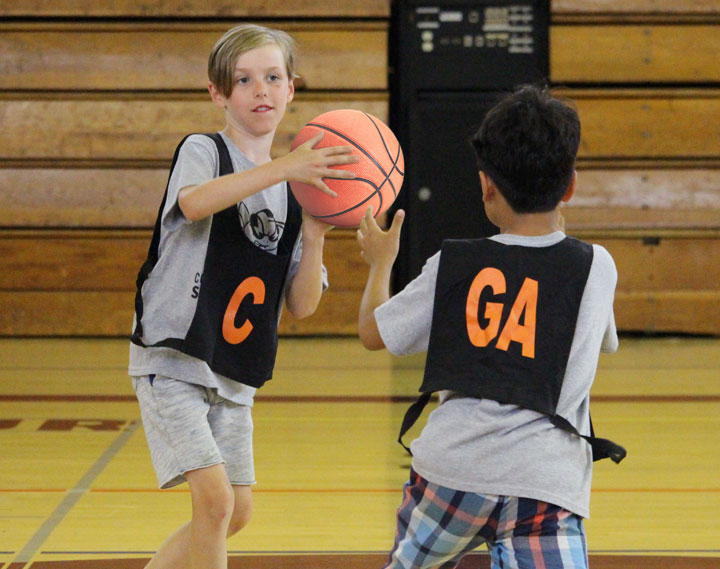 Programme parascolaire - Basketball


Joignez-vous à l'équipe de basketball des Stingers, qui dirigera et entraînera nos étoiles de demain dans le cadre de ce programme parascolaire! Il s'agit d'une excellente occasion de pratiquer un sport de plus en plus populaire au Québec et au Canada. Ce programme vise à familiariser les jeunes avec des compétences de base, des concepts fondamentaux et des entraînements qui les prépareront à des compétitions de tous niveaux. Les passionnés de basketball prêts à donner le meilleur d'eux-mêmes y trouveront leur compte.

ENTRAÎNEMENT
Lancers
Passes
Jeux de jambes
Tirs de près
Exercices de dribles
Occupation de l'espace et mouvements sans ballon
Percées et démarquages en V, en L et en C
Renforcement des deux mains
CLIENTÈLE : Filles et garçons de 9 à 16 ans

HORAIRE : Les mardis, de 17h à 18h

COÛT : 145 $ par séance
DATES :
1ère séance
2019
octobre 1, 8, 15, 22, 29
novembre 5, 12, 19, 26
décembre 3


2ème séance
2020
janvier 7, 14 21, 28
février 4, 11, 18, 25
mars 10, 17


LIEU :
Gymnase de Concordia
7200 rue Sherbrooke Ouest (quartier Notre-Dame-de-Grâce)
INFORMATION :

514-848-2424, poste 5979
concordia.camps@concordia.ca