Main » Camps » After School Flag Football
After School Flag Football Program
2019-20
The program will focus on introducing the basic technical and tactical football skills as well as improving overall athleticism and decision-making ability transferable to any collective sport. In order to optimise focus, engagement and improvement we have structured our sessions on the following phases:
Activation and movement (technical)
Warm-up and activation
Balance and coordination
Speed and agility
Decision making
Pleasure of competition
Technical and tactical
Catching, throwing and running with the football
Route running / separate from defender
Covering
Tackling angles (no contact)
Playing situations - flag football (game)
Apply teachings in game situations
Optimise motor skill engagement
Pleasure of competition
PROGRAM CO-ORDINATOR
Seydou Junior Haidara
• Former CFL profesional ahtlete
• Montreal Alouettes ambassador, helped with coach development and implemented ultimate football program
ASSISTANT COACHES
Concordia University varsity athletes and coaches

RATIO: 1-10
AGES: Grades 3-4, 5-6, 7-8, 9-11
TIME: Wednesdays from 4:30 to 6 p.m.

DATES:
2019
November 6, 13, 20, 27
December 4, 11, 18
2020
January 8, 15, 22, 29
February 5, 12, 19, 26
March 11, 18, 25
April 1, 8


COST:
$245 for 20 sessions without transportation
$410 for 20 sessions with transportation (20 registrations are required to offer the service) - Transportation information
LOCATION:
Concordia Stinger Dome
7200 Sherbrooke St. W., N.D.G
For additional information contact:

Krzysiek Kmiecik
Camp Director
514-848-2424, ext. 5979
concordia.camps@concordia.ca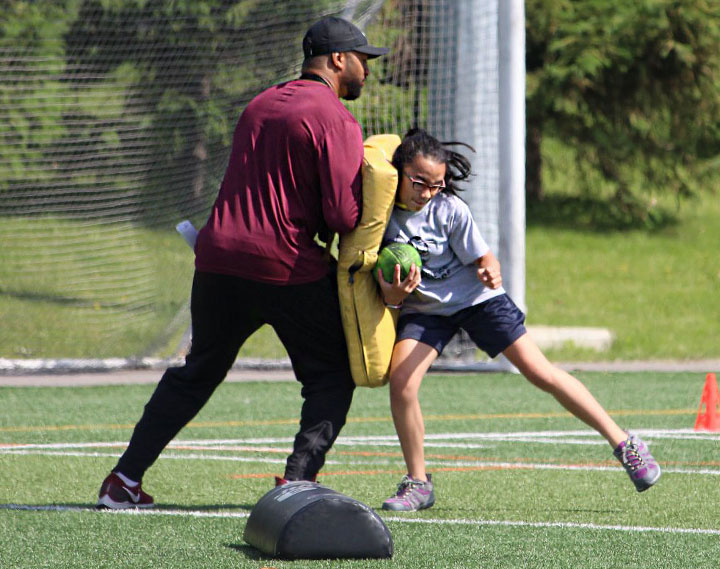 Programme parascolaire - Flag-football

Introduire les base les bases technico-tactiques reliées au football tout en développement les qualités athlétiques générale et la prise de décision rapide transférable a tous sports collectifs. Dans le but d'optimiser le focus, l'engagement et le progrès, les sessions seront structurées en trois périodes.
Jeux d'activactions
Échauffement
Équilibre et coordination
Vitesse et agilité
Prise de décisions
Plaisir de la compétition
Apprentissage technique et tactique
Lancer, attraper et courir avec le ballon
Se démarquer et apprendre à courir des tracés
Couvrir un receveur
Techniques et angles de plaqué sécuritaire (sans contact)
Situations de match
Mettre en pratique les apprentissages
Optimiser l'engagement moteur
Plaisir de la compétition
COORDONNATEUR DU PROGRAMME :
Seydou Junior Haidara
• Athlète professionnel de la LCF (Alouettes de Montréal)
• Ancien ambassadeur des Alouettes
• A contribué à la formation d'entraîneur
• A mis sur pied un programme d'Ultimate Football
ENTRAÎNEURS ADJOINTS :
Athlètes et entraîneurs de l'Université Concordia
RATIO : Un entraîneur pour dix participants
ANNÉE SCOLAIRE : 3-4, 5-6, 7-8, 9-11

HORAIRE : Les mercredis, de 16h30 à 18h

DATES :
2019
novembre 6, 13, 20, 27
décembre 4, 11, 18
2020
janvier 8, 15, 22, 29
février 5, 12, 19, 26
mars 11, 18, 25
avril 1, 8
COÛT :
245 $ par 20 séances sans service de transport
410 $ par 20 séances avec service de transport (20 inscriptions sont nécessaires pour offrir le service) - Information sur le transport
LIEU :
Dôme des Stingers de Concordia
7200 rue Sherbrooke Ouest (quartier Notre-Dame-de-Grâce)