Main » Camps » After School Speed Agility Power
After School Speed Agility and Power Program
2019-20
Improve your game!

Looking to increase speed, agility and power? This camp is for you! Using drills designed to develop all-around athletes, this program targets weaknesses and enhances strengths, offering significant long-term benefits. Using evidence-based methods, the camp aims to develop basic motor patterns that are often neglected by coaches, helping prevent injury and potentially extending athletic careers by several years.
AGES: 13-16, boys and girls
TRAIN FOR:

Strength
Speed
Agility
Endurance
Flexibility
Balance
Coordination
Running technique
Injury prevention
Confidence
TIME: Wednesdays from 4:30 to 5:45 p.m.

DATES AND COST:
Session one - $90
2019
November 6, 13, 20, 27
December 4, 11, 18


Session two - $90
2020
January 8, 15, 22, 29
February 5, 12, 19
LOCATION:
Concordia Stinger Dome
7200 Sherbrooke St. W., N.D.G
For additional information contact:

Krzysiek Kmiecik
Camp Director
514-848-2424, ext. 5979
concordia.camps@concordia.ca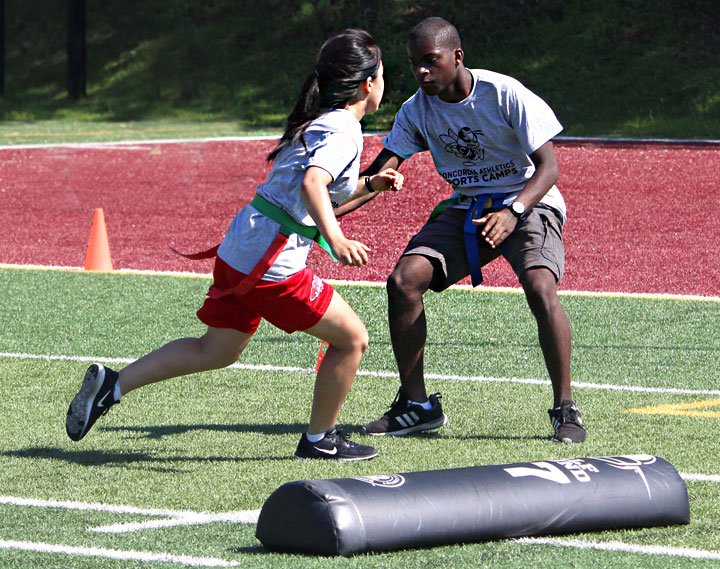 Programme parascolaire - rapidité, agilité et coordination

Améliore ton jeu!

Si tu veux augmenter ta rapidité, ton agilité et ta force, tu as trouvé le camp qu'il te faut! Employant des exercices conçus pour former des athlètes polyvalents, il cible les faiblesses des participants et leur permet de développer leurs forces; leur jeu s'en trouvera grandement amélioré à long terme. À l'aide de méthodes fondées sur des données probantes, le camp vise à perfectionner les schémas moteurs de base que les entraîneurs négligent souvent. Cette démarche aide à prévenir les blessures et peut permettre aux athlètes de prolonger la durée de leur carrière de plusieurs années.
ÂGES : Garçons et filles de 13 à 16 ans
ASPECTS À DÉVELOPPER PAR L'ENTRAÎNEMENT :
force
rapidité
agilité
endurance
souplesse
équilibre
coordination
technique de course
prévention des blessures
confiance en soi
HORAIRE : Les mercredis, de 16h30 à 17h45

DATES ET COÛT :
Première session - 90 $
2019
November 6, 13, 20, 27
December 4, 11, 18


Deuxième session - 90 $
2020

janvier 8, 15, 22, 29
février 5, 12, 19
LIEU :
Dôme des Stingers de Concordia
7200 rue Sherbrooke Ouest (quartier Notre-Dame-de-Grâce)