Main » Camps » Camp Guidelines
CAMP GUIDELINES
Concordia's Department of Recreation and Athletics is excited to include the Concordia community as well as the surrounding neighbourhood in its sports and recreation programming. We believe that participation in sports and recreational activities is vital to the development of physical, social and emotional health and teaches children the importance of teamwork and cooperation, while helping them learn new skills and improve their abilities.
Staff

Our camps are staffed by university students and Concordia University student-athletes with prior experience as coaches or camp counsellors.
Communication Information

In case of an emergency or illness, or should you wish to contact the camp, please call us during office hours:

Monday to Friday from 7:30 a.m. to 4 p.m.
Summer Camp Office
514-848-2424 ext. 5979
If there are specific concerns (i.e. registration info, payments, concerns about camp) please contact Krzysztof Kmiecik, the Summer Camp Coordinator.
Morning drop-off and afternoon pick-up are good times to briefly discuss any pressing issues. If you would like to discuss a private matter, please contact Krzysztof Kmiecik to schedule an appointment.
Krzysztof Kmiecik
Summer Camp Coordinator
514-848-2424 ext. 5979
concordia.camps@concordia.ca
Day Camp Hours and Location:


Monday to Friday, 9 a.m. to 4 p.m.
Concordia Athletic Complex
7200 Sherbrooke St. W., Montreal, Quebec H4B 1R2
Arrival

Option 1.
For your convenience, a special drop-and-ride lane will be available for parents who wish to drop off their child(ren) and continue on their way to their next destination. Parents can drive up in front of the entrance to the arena to drop off their child with the summer camp staff members who will escort the child inside. Stopping and parking will not be allowed in this area.
Option 2.
A parking area will be designated for parents who will want to drop off their child in person. Once inside the athletic complex, a sign-in table will be located in the lobby.
Sign-in:
Sign-in will begin at 7:30 a.m. Parents are encouraged to sign their child(ren) in on the first day of camp. The sign-in table will be set up at the lobby of the athletics building.

NOTE: If, for any reason, campers need to leave camp before 4 p.m., parents/guardians must notify the camp administration by 9 a.m. that day. Camp staff is not responsible for extended wait periods during unannounced early pickups.
Departure

Upon departure, parents or guardians will be required to sign their child out for the day. Only those who are authorized to pick up your child will be allowed to sign a child out. Those who are authorized to pick up your child will be asked to present a valid photo ID when signing your child out. Only the authorized parents or legal guardians will be allowed to add someone to the list of authorized people. Any such additions must be arranged with the camp administration in advance. Parents who arrive early will be asked to wait for their child in the athletic complex lobby. Please inform the camp coordinator if your child(ren) is allowed to leave camp on their own at the end of the day.
Sign-out:
Sign-out will begin at 4 p.m.

NOTE: Extended care charges incur as of 4:15 p.m. Only credit or debit card payments will be accepted.
Extended Care Service:

It is required that campers using the extended care service are registered for the program.
The extended care program will be available from 7:30-9 a.m. & 4:15-6 p.m.
Morning extended care: 7:30-9 a.m. (service is free)
Afternoon extended care 4:15-6 p.m. ($35 per week, 8$ per single day)
NOTE: Extended care closes at 6 p.m. Please note that a late fee of $5 per interval of 10 minutes will be charged after 6 p.m. Only credit or debit card payments will be accepted.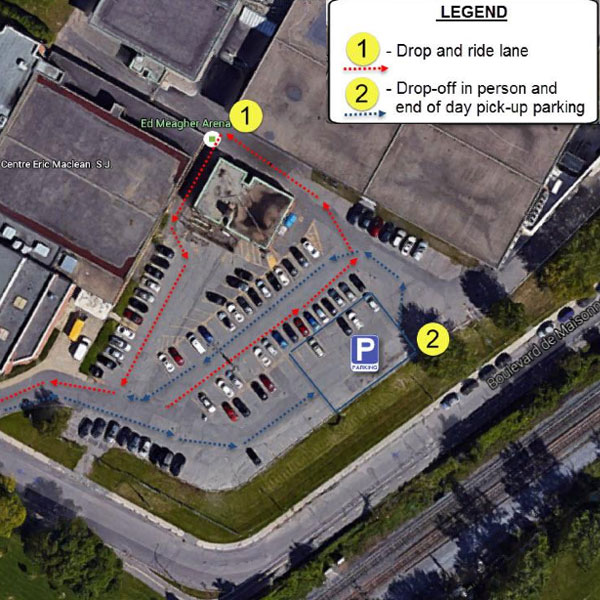 Absences and Late Policy

If your child is going to be late or absent from camp for the day, you are required to call the office before 9 a.m. Please leave a message with your name and your child's name as well as the days they will be absent.
Attendance will be taken at the beginning of the day and the counsellors will report any absences so that the camp can confirm a child's absence or determine where the child is. If there is no phone message, you will be contacted regarding your child's absence. This will help us ensure the safety of your child.
Sickness Policy
If your child is sick during camp, you will be contacted and asked to come and pick them up. If you are not available, we will call the emergency contact. If your child is sick, please refrain from sending them to camp.
Medical

If your child has any medical conditions (asthma, allergies etc.) or any changes to a medical condition, we need to be notified at the beginning of camp. Children must always have their medication with them. For safety reasons, they will not be allowed to attend camp without their medication. Your child must be able to administer their own medication without assistance. All medication must be accompanied by clear instructions on when it needs to be taken and how it is to be administered.
Should there be an emergency involving your child, you will be contacted as soon as possible following the notification of any necessary emergency personnel.
Severe weather, heat, sun and rain
In order for children to enjoy each day, they should arrive with appropriate items. This can include: rain gear, a sweater or hoodie for cool weather, sunscreen, etc. All items should be labelled with your child's name.
Staff will monitor the children in their group and remind children to reapply sunscreen throughout the day.
During severe weather conditions, programs will be modified to ensure camper safety.
In-class activities will be provided in order to accommodate programming changes.
Depending on the age of participants, activities may continue outside during light rain.
Staff will encourage the frequent drinking of water throughout the day.
Daily activities at camp

The program schedule will be posted on the athletic complex bulletin board on the Monday of every week. The board will be located beside the summer camp office.
The daily activity plan is designed to stimulate the development of the children by engaging them in age-appropriate activities.
Camps provide enriching experiences through crafts, outdoor play, themes and special events.
Children should bring the following items

Backpack (labelled with their name):
A small, waterproof and durable backpack should be provided for your child. We ask that you not substitute a plastic lunchbox. A backpack frees your child's hands and is therefore safer. Lastly, ensure the backpack is an appropriate size for your child and that their name is written on the inside of the backpack.
Lunch and snacks (lunch box labelled with their name):
We ask you to send your child with lunch and healthy snacks for the day. The camp is nut-free. Please refrain from sending your child with lunches and snacks that may contain nuts. Campers are not allowed to share food.
Lunch and snacks (for morning and afternoon)
Morning snack 10:15-10:30 a.m.
Lunch 12-1 p.m.
Afternoon snack 3-3:15 p.m.
NOTE: Campers will not have access to microwave ovens.

Clothing:
All campers will receive one complimentary t-shirt
Campers registered in multiple weeks will receive one t-shirt per sport registration
All campers are expected to wear camp t-shirts each day of the camp
Additional t-shirts can be purchased during the week of camp at a cost of $10 (credit card and debit only)


It is important for your child to come with the appropriate clothing for the sports in which they will be participating. Children should be dressed in athletic clothing and bring their running shoes as well as the shoes for the appropriate sport. For safety reasons, any child not in the appropriate clothing will not be able to participate in camp activities. Please make sure that all your child's clothing is clearly identified.

We ask that children come to camp with sunscreen already applied, and that they bring extra sunscreen to camp. Your child will be outside for a good portion of the day and it is important that they be protected from the sun. Children should also come to camp with a water bottle as they will be active and will need to stay hydrated.
Footwear and Equipment:
We suggest that participants bring the following items:
Soccer or football shoes (cleats or turf shoes)
Shin pads (soccer)
Footwear (running shoes, flip flops)


Personal Items:
Children should not bring electronic devices or anything of value to camp. The camp will not be responsible for any lost, broken or stolen items.
Any items that are brought to camp must have the camper's name clearly indicated on them.

Field trips and Outings

During the 2017 summer camp, no field trips are planned. Campers will participate in activities organized at the athletic complex (Concordia University Loyola Campus), but some outings will be organized to local parks and playgrounds in the proximity of the campus.
Special Days

Theme Day: every Friday, campers will participate in regular activities during the morning. In the afternoon, there will be special activities to celebrate the end of camp.
Emergencies

In case of an emergency, our camp coordinator or another staff member will contact parents or legal guardians as identified on the registration form. It is important to complete and update your medical forms - including emergency contacts - prior to the first day of camp.
Behaviour

Campers are expected to behave in a way that makes the whole group feel comfortable and safe. Bullying of any sort will not be tolerated. Camps will function on a three-strike policy. The first strike will involve the leaders talking to the child and also informing the parent/guardian about the incident. Children who get a second strike will meet with the camp coordinator, who will discuss the matter with you. A third strike will result in dismissal. Strikes will be given at the leader's and the camp coordinator's discretion.
All groups must meet and stay together as a group each morning.
Basic behavioural expectations are explained to all the participants. Campers must respect these guidelines at all times.
All members of the group must listen to the group leader's instructions.
All members of the group are expected to treat their peers with respect and allow them to enjoy themselves.
Physical contact of any kind is not allowed, and will be reported to a senior member of the staff.
Any form of verbal abuse is not allowed and will be reported to a senior member of the staff.
There is a zero tolerance policy for drugs, smoking, or alcohol at camp.


Parental Conduct

Our leaders seek to provide an excellent experience for your child during their time at camp. If you have an issue that needs to be addressed, we invite you to discuss this with the leaders in a manner that is appropriate and respectful. If you would rather discuss an issue with a coordinator, please feel free to do so. Our aim is to exceed your expectations with the programs that we offer. If you have any concerns, please feel free to contact the summer camp coordinator.

Krzysztof Kmiecik
Summer Camp Coordinator
514-848-2424 ext. 5979
concordia.camps@concordia.ca

Waivers

All parents are required to sign a Parental Release and Waiver of Liability.
The waiver has to be signed and delivered to the summer camp office before June 24, 2019.
Discounts:
For multisport, soccer, flag football and hockey summer camps, Concordia Athletics Sports Camps offers a discount package that works in the following way: 

| | | | | |
| --- | --- | --- | --- | --- |
| Week | 1st Child | 2nd Child | 3rd Child | 4th Child + |
|   | % | % | % | % |
| 1 | n/a | n/a | n/a | n/a |
| 2 | 5 | 10 | 15 | 15 |
| 3 | 10 | 15 | 20 | 20 |
| 4 | 10 | 15 | 20 | 20 |
| 5 | 15 | 20 | 25 | 25 |
| 6 | 15 | 20 | 25 | 25 |
| 7 | 20 | 25 | 30 | 30 |
| 8 | 20 | 25 | 30 | 30 |
| 9 | 25 | 30 | 35 | 35 |
Discounts will be applied automatically at the time of registration based on the chosen number of weeks and campers registered.  One discount per transaction. Extra weeks and/or campers registered at a later time can not be added to a previous transaction to obtain a discount.
Payment Policy:
Payment in full is required at the time of registration. Payment must be made by debit or credit card only.
Refunds & Cancellation Policy:

All cancellations are subject to the following conditions:
All requests must be made in writing and sent to concordia.camps@concordia.ca

After school and weekend programs
Partial refunds are granted within the first 7 days of the start of the program
Refunds are prorated and will incur an administration fee
Any refunds following this period must be accompanied by an authorized medical certificate.


Summer camp and Spring break
Summer camp: Partial refunds are granted, less $50 administration fee prior to June 1st. No refunds will be given after June 1st.
Spring Break Camp: Partial refunds are granted, less $50 administration fee prior to February 1st. No refunds will be given after February 1st.
Any refunds following this period (dates listed above) must be accompanied by an authorized medical certificate.
No refunds will be provided for campers who are absent from camp