Language Camp 2020
Our team of students from the Education Department, in collaboration with staff from the Department of Recreation and Athletics, have a series of fun activities prepared to help develop language skills. Through games and interactive activities, campers will develop a wider range of vocabulary and a deeper knowledge of how languages work, while enjoying a sense of community, growing as individuals and staying active.
Staff: Concordia university students
Program features:
Learning French and English through play
Creative workshops
Sports
Cooperative activities and games


DATES:
Ages: 10-12 (boys and girls) 20 spots only
July 20-24
July 27-31
Aug. 3-7
Ages: 7-9 (boys and girls) 20 spots only
Aug. 10-14
Aug. 17-21
Aug. 24-28
Ratio: 1-6
All participants will receive:

TIME & PLACE:

Monday to Friday, 9 a.m. to 4 p.m.
Concordia athletics complex, 7200 Sherbrooke St. W., N.D.G

COST (per week):
$270 until March 1, $300 after March 1
EXTENDED CARE AVAILABLE

Free early drop-off service from 7:30 to 9 a.m.
Late pick up service from 4:15 to 6 p.m.: $35 for the week
INFORMATION
514-848-2424, ext./poste 5979
concordia.camps@concordia.ca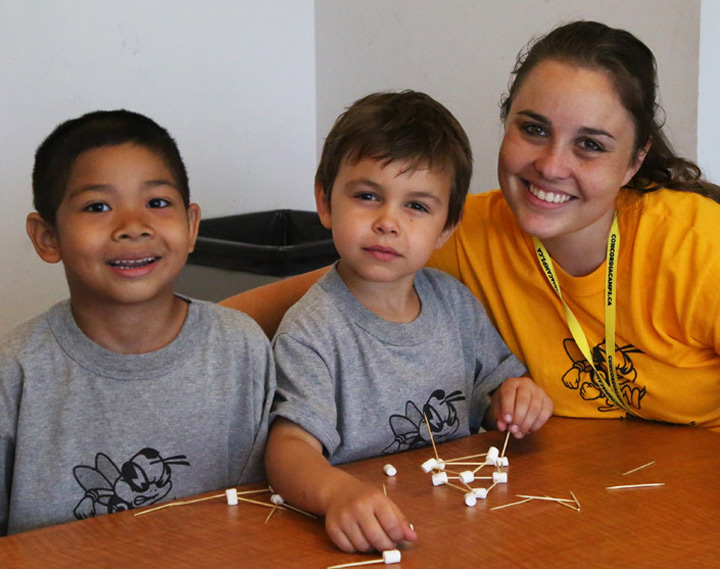 Camp de Langue
En collaboration avec le Service des loisirs et des sports de Concordia, notre équipe d'étudiants et d'étudiantes du Département des sciences de l'éducation a préparé une série d'activités ludiques visant à développer les capacités langagières. Grâce à des jeux et à des activités interactives, les participants amélioreront leurs aptitudes langagières et découvriront de nouvelles occupations ainsi que d'autres cultures,ce qui favorisera leur épanouissement personnel. Notre camp donne ainsi l'occasion aux participants de développer leurs compétences linguistiques tout en gardant la forme.
Personnel : étudiants et étudiantes de l'Université Concordia
Avantages :
apprentissage du français et anglais par le jeu
ateliers créatifs
sports

jeux et activités stimulant la coopération
DATES :
Enfants de 10 à 12 ans (filles et garçons) – 20 places seulement
du 20 au 24 juillet
du 27 au 31 juillet
du 3 au 7 août 
Enfants de 7 à 9 ans (filles et garçons) – 20 places seulement
du 10 au 14 août
du 17 au 21 août
du 24 au 28 août
Ratio : 1 pour 6
Cadeaux pour chaque participant :

Tee-shirt
Bouteille d'eau
HORAIRE ET LIEU :

Du lundi au vendredi, de 9h à 16h
Complexe sportif de l'Université Concordia : 7200, rue Sherbrooke Ouest (quartier de Notre-Dame-de-Grâce)
TARIFS (par semaine) :
270 $ jusqu'au 1er mars, 300 $ après le 1er mars

SERVICE DE GARDE

Le matin, service gratuit de 7h30 à 9h
L'après-midi, service payant de 16h15 à 18h (35 $ par semaine)