All in-person Concordia Athletics summer camps have been cancelled.
Information on online camps will be available soon.

Main » Camps » Leaders In Training
Leaders in Training (LIT) Program 2020
Offered in collaboration with Concordia's Department of Applied Human Sciences
Concordia Athletics Sports Camps - Our dedicated staff of Concordia University students/athletes work towards a common goal: offering kids from our community the opportunity to develop skills in leadership, teamwork and sportsmanship while participating in a variety of sports-related games and drills. We strive to increase participation in our programs while keeping our focus on respectful communication and, most of all, fun!

The Leaders-In-Training (LIT) Program is open to youth between the ages of 14-17 (grades 9-11). Participants will experience the fun and excitement of our summer camps while learning a wide range of leadership and social skills. LITs will learn to create and animate dynamic activities, manage schedules and incorporate safety and will have the opportunity to apply their newly acquired skills and knowledge in practical situations.
Program Components Include:
Refining the ability to work in diverse groups
Planning, implementation and evaluation of activities and games
Identifying and preventing bullying
Problem solving strategies
Conflict resolution
LITs will participate in interactive workshops that will give them a taste of what being a leader at Concordia Sports camps entails. These workshops will also give camp administrators the opportunity to meet and evaluate interested participants in the LIT program. Applicants who are willing and eager to learn may be invited to join our team. You are encouraged to come out and participate!
Qualifications to become an LIT:
Bilingual (English-French preferred)
Ages: 14-17
Enthusiastic about working with children
Willingness to learn
Able to work well with others
Outgoing
Creative
High-energy
Organized
Cost: $190 per week
Dates:
June 29 - July 3
July 6-10
July 13-17
July 20-24
July 27-31
Aug. 3-7
Aug. 10-14
Aug. 17-21
Aug. 24-28
INFORMATION
514-848-2424, ext./poste 5979
concordia.camps@concordia.ca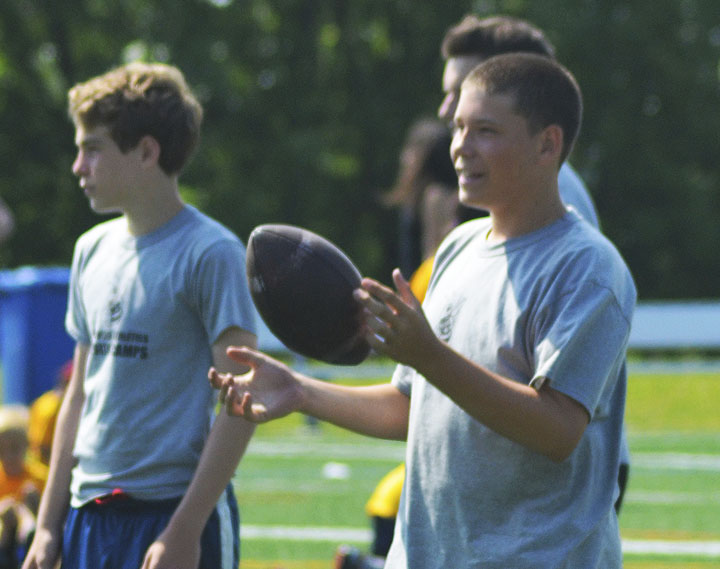 Programme de leaders en formation
En collaboration avec le Département des sciences humaines appliquées
Camps sportifs de Concordia - Composé d'étudiants-athlètes, notre personnel dévoué travaille à un objectif commun : outre l'esprit sportif, permettre aux jeunes d'acquérir des compétences en leadership et en travail d'équipe tout en prenant part à divers jeux et exercices. Nous encourageons leur participation dans un climat de respect et, surtout, de plaisir!
Le programme de leaders en formation s'adresse aux jeunes de 14 à 17 ans (de la 3e à la 5e secondaire). Les participants profitent des avantages du camp d'été tout en exerçant leur leadership et leurs aptitudes sociales. Ils apprennent notamment à concevoir et à animer des activités dynamiques, à gérer un horaire et à appliquer des mesures de sécurité. Pour finir, ils mettent en pratique leurs nouvelles connaissances sur le terrain.
Éléments du programme
Perfectionnement de la capacité à travailler dans divers groupes
Planification, mise en place et évaluation d'activités et de jeux
Détection et prévention de l'intimidation
Stratégies de résolution de problèmes
Résolution de conflits
Les participants prennent part à des ateliers interactifs sur le rôle que doivent assumer les leaders des camps sportifs de Concordia. Les responsables des camps en profitent pour les rencontrer et évaluer leur motivation à faire partie du programme. Tous les jeunes sont les bienvenus!
Qualifications pour devenir leader en formation
Bilinguisme (de préférence, anglais et français)
Âge : de 14 à 17 ans
Adore travailler auprès des enfants
Volonté d'apprendre
Capacité à bien travailler avec les autres
Personnalité extravertie
Esprit créatif
Dynamisme
Sens de l'organisation
Coût : 190 $ par semaine
Dates :
Du 29 juin au 3 juillet
Du 6 au 10 juillet
Du 13 au 17 juillet
Du 20 au 24 juillet
Du 27 au 31 juillet
Du 3 au 7 août
Du 10 au 14 août
Du 17 au 21 août
Du 24 au 28 août