All in-person Concordia Athletics summer camps have been cancelled.
Information on online camps will be available soon.

Main » Camps » Multisport Camp
Multisport Camp 2020
With a focus on fun, Concordia's multisport camp gives kids the opportunity to try a variety of different sports and activities. Campers will develop skills in leadership, teamwork and sportsmanship while participating in a wide variety of action-packed drills and games.
STAFF:
Instructors are primarily Concordia University students and Stinger athletes.
AGES:
6-14, boys and girls
Groups will be formed according to age and ability
Space is limited
PROGRAM FEATURES:

LOTS OF FUN

A variety of sports including: soccer, basketball, baseball, volleyball, flag football, badminton, athleticism, touch rugby and more
Activities: science, engineering, nutrition, arts and crafts, drama, dance, yoga, zumba, music, outings and more
Cooperative games and team-building activities

Age appropriate and sport-related drills and games

Technical skill development in multiple sports
All participants will receive:

DATES:
June 29 - July 3
July 6-10
July 13-17
July 20-24
July 27-31
Aug. 3-7
Aug. 10-14
Aug. 17-21
Aug. 24-28
TIME & PLACE:

Monday to Friday, 9 a.m. to 4 p.m.
Concordia athletics complex, 7200 Sherbrooke St. W., N.D.G
COST (per week):
$230 until March 1, $260 after March 1.
Early bird discount cannot be combined with any other promotions, coupons or discount packages.
Discounts for multiple weeks and campers available.
EXTENDED CARE AVAILABLE

Free early drop-off service from 7:30 to 9 a.m.
Late pick up service from 4:15 to 6 p.m.: $35 for the week
INFORMATION
514-848-2424, ext./poste 5979
concordia.camps@concordia.ca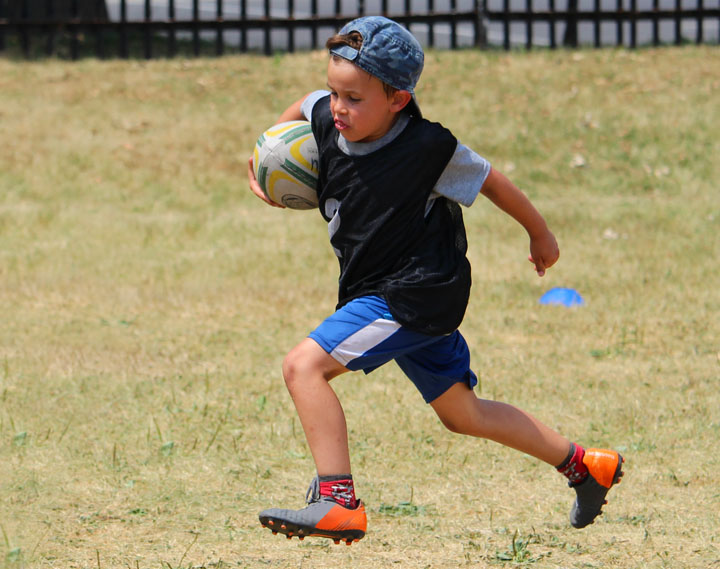 Camp Multisport
Axé d'abord et avant tout sur le divertissement, le camp multisport de Concordia donne aux enfants l'occasion de découvrir toute une gamme d'activités sportives et ludiques. En participant à des exercices et à des jeux aussi variés que mouvementés, les jeunes développeront des compétences en matière de leadership, de travail d'équipe et d'esprit sportif.
PERSONNEL :
Pour la plupart, les moniteurs sont étudiants à l'Université Concordia ou athlètes d'une équipe des Stingers.
CLIENTÈLE :
Filles et garçons de 6 à 14 ans
Équipes formées par groupe d'âge
Avantages du CAMP MULTISPORT :

CHEZ NOUS, LES ENFANTS S'EN DONNENT À CŒUR JOIE!
Sports variés : soccer, basketball, baseball, volleyball, flag-football, hockey en salle, badminton, athletisme, touch-rugby et plus
Activités : sciences, ingenierie, nutrition, arts plastiques, theatre, danse, yoga, zumba, musique, sorties et bien plus
Jeux stimulant la coopération et activités favorisant le travail d'équipe
Jeux et exercices sportifs convenant à l'âge des participants
Développement des aptitudes techniques liées à plusieurs sports
Cadeaux pour chaque participant :

Tee-shirt
Bouteille d'eau
DATES :
Du 29 juin au 3 juillet
Du 6 au 10 juillet
Du 13 au 17 juillet
Du 20 au 24 juillet
Du 27 au 31 juillet
Du 3 au 7 août
Du 10 au 14 août
Du 17 au 21 août
Du 24 au 28 août
HORAIRE ET LIEU :

Du lundi au vendredi, de 9h à 16h
Complexe sportif de l'Université Concordia : 7200, rue Sherbrooke Ouest (quartier de Notre-Dame-de-Grâce)
TARIFS (par semaine) :
230 $ jusqu'au 1er mars, 260 $ après le 1er mars.
Le tarif préférentiel ne peut être combiné à d'autres promotions, coupons ou rabais.
SERVICE DE GARDE

Le matin, service gratuit de 7h30 à 9h
L'après-midi, service payant de 16h15 à 18h (35 $ par semaine)