Main » Camps » Multisport Camp
Multisport Camp 2020
With a focus on fun, Concordia's multisport camp gives kids the opportunity to try a variety of different sports and activities. Campers will develop skills in leadership, teamwork and sportsmanship while participating in a wide variety of action-packed drills and games.
STAFF:
Instructors are primarily Concordia University students and Stinger athletes.
AGES:
6-14, boys and girls
Groups will be formed according to age and ability
Space is limited
PROGRAM FEATURES:

LOTS OF FUN

A variety of sports including: soccer, basketball, baseball, volleyball, flag football, badminton, athleticism, touch rugby and more
Activities: science, engineering, nutrition, arts and crafts, drama, dance, yoga, zumba, music, outings and more
Cooperative games and team-building activities

Age appropriate and sport-related drills and games

Technical skill development in multiple sports
All participants will receive:

DATES:
June 29 - July 3
July 6-10
July 13-17
July 20-24
July 27-31
Aug. 3-7
Aug. 10-14
Aug. 17-21
Aug. 24-28
TIME & PLACE:

Monday to Friday, 9 a.m. to 4 p.m.
Concordia athletics complex, 7200 Sherbrooke St. W., N.D.G
COST (per week):
$230 until March 1, $260 after March 1
Discounts for multiple weeks and campers available.
EXTENDED CARE AVAILABLE

Free early drop-off service from 7:30 to 9 a.m.
Late pick up service from 4:15 to 6 p.m.: $35 for the week
INFORMATION
514-848-2424, ext./poste 5979
concordia.camps@concordia.ca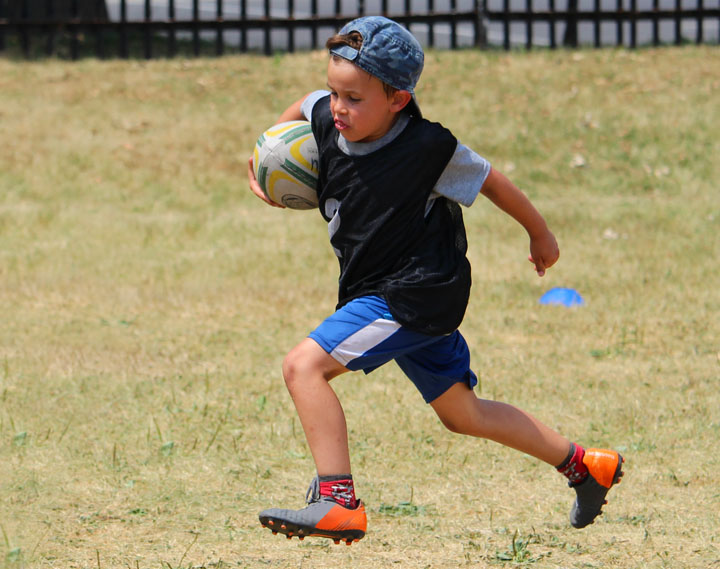 Camp Multisport
Axé d'abord et avant tout sur le divertissement, le camp multisport de Concordia donne aux enfants l'occasion de découvrir toute une gamme d'activités sportives et ludiques. En participant à des exercices et à des jeux aussi variés que mouvementés, les jeunes développeront des compétences en matière de leadership, de travail d'équipe et d'esprit sportif.
PERSONNEL :
Pour la plupart, les moniteurs sont étudiants à l'Université Concordia ou athlètes d'une équipe des Stingers.
CLIENTÈLE :
Filles et garçons de 6 à 14 ans
Équipes formées par groupe d'âge
Avantages du CAMP MULTISPORT :

CHEZ NOUS, LES ENFANTS S'EN DONNENT À CŒUR JOIE!
Sports variés : soccer, basketball, baseball, volleyball, flag-football, hockey en salle, badminton, athletisme, touch-rugby et plus
Activités : sciences, ingenierie, nutrition, arts plastiques, theatre, danse, yoga, zumba, musique, sorties et bien plus
Jeux stimulant la coopération et activités favorisant le travail d'équipe
Jeux et exercices sportifs convenant à l'âge des participants
Développement des aptitudes techniques liées à plusieurs sports
Cadeaux pour chaque participant :

Tee-shirt
Bouteille d'eau
DATES :
Du 29 juin au 3 juillet
Du 6 au 10 juillet
Du 13 au 17 juillet
Du 20 au 24 juillet
Du 27 au 31 juillet
Du 3 au 7 août
Du 10 au 14 août
Du 17 au 21 août
Du 24 au 28 août
HORAIRE ET LIEU :

Du lundi au vendredi, de 9h à 16h
Complexe sportif de l'Université Concordia : 7200, rue Sherbrooke Ouest (quartier de Notre-Dame-de-Grâce)
TARIFS (par semaine) :
230 $ jusqu'au 1er mars, 260 $ après le 1er mars
SERVICE DE GARDE

Le matin, service gratuit de 7h30 à 9h
L'après-midi, service payant de 16h15 à 18h (35 $ par semaine)