Hockey Camps 2018
Camps staffed by the members of our Concordia Stingers men's and women's teams unders the supervision of varsity head coaches.

Development program
- Intended for players preparing to play and/or try out for high-level teams.

Beginners program
- Intended for beginners only. Best suited for participants who do not play organized hockey.
All participants will receive:

Free t-shirt
Free water bottle
DATES:
July 23-27
July 30-August 3
August 6-10

COST (per week):
$275 until March 1, $325 after March 1
TIME & PLACE:

Monday to Friday, 9 a.m. to 4 p.m.
Concordia Athletic Complex, 7200 Sherbrooke St. W., N.D.G
EXTENDED CARE AVAILABLE

Free early drop-off service from 7:30 to 9 a.m.
Late pick up service from 4 to 6 p.m.: $35 for the week
REGISTRATION
INFORMATION
514-848-2424, ext./poste 5979
concordia.camps@concordia.ca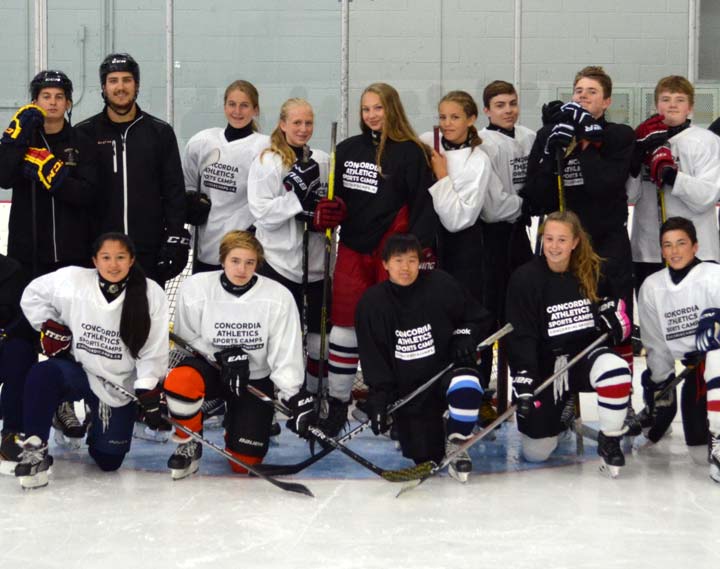 Camps de Hockey 2018
Animés par des hockeyeurs et hockeyeuses des Stingers de Concordia, sous la supervision des entraîneurs-chefs des Stingers.

Programme de perfectionnement
- Il s'adresse aux jeunes qui se préparent à jouer dans une équipe de haut niveau ou à passer des épreuves de sélection.
Cadeaux pour chaque participant :

Tee-shirt
Bouteille d'eau
DATES :
Du 23 au 27 juillet
Du 30 juillet au 3 août
Du 6 au 10 août

TARIFS (par semaine) :
275 $ jusqu'au 1er mars, 325 $ après le 1er mars
HORAIRE ET LIEU :

Du lundi au vendredi, de 9h à 16h
Complexe sportif de l'Université Concordia : 7200, rue Sherbrooke Ouest (quartier de Notre-Dame-de-Grâce)

SERVICE DE GARDE

Le matin, service gratuit de 7h30 à 9h
L'après-midi, service payant de 16h à 18h (35 $ par semaine)
INSCRIPTION