Hockey Camp 2018
This is a development program intended for players preparing to play and/or try out for high-level teams. The camp is staffed by members of the Concordia Stingers men's and women's teams under the supervision of varsity head coaches.
AGES:
10-15, Boys and Girls
Groups will be formed according to age and technical ability
Space is limited (50-60)
PROGRAM FEATURES:

Full day camp: Monday to Friday from 9 a.m. to 4 p.m.
Two, 90-minute on-ice sessions per day
Hockey-specific off-ice training
Group off-ice activities
Special guest speakers
Sport nutrition sessions
Sport psychology related activities
Interactive classroom and video sessions
Goalie training
Athletic therapist present during training
All participants will receive:

Free t-shirt
Free water bottle

Free group photo
DATES:
July 23-27
July 30-August 3
August 6-10

COST (per week):
$275 until March 1, $325 after March 1
TIME & PLACE:

Monday to Friday, 9 a.m. to 4 p.m.
Concordia Athletic Complex, 7200 Sherbrooke St. W., N.D.G
EXTENDED CARE AVAILABLE

Free early drop-off service from 7:30 to 9 a.m.
Late pick up service from 4 to 6 p.m.: $35 for the week
INFORMATION
514-848-2424, ext./poste 5979
concordia.camps@concordia.ca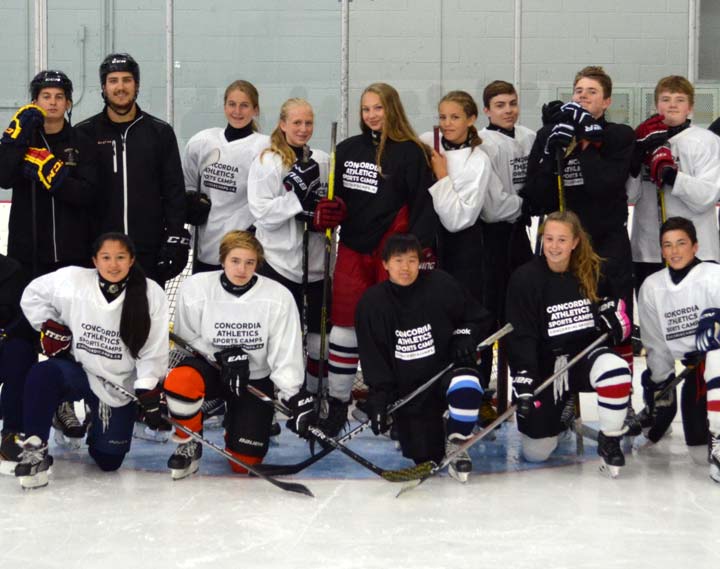 Camp de Hockey 2018
Ce programme de perfectionnement s'adresse aux jeunes qui se préparent à jouer dans une équipe de haut niveau ou à passer des épreuves de sélection. Il est animé par des hockeyeurs et hockeyeuses des Stingers de Concordia, sous la supervision des entraîneurs-chefs des Stingers.
CLIENTÈLE :
Filles et garçons de 10 à 15 ans
Équipes formées par groupe d'âge
Maximum de 50 à 60 participants
Avantages du CAMP DE HOCKEY :

Plein temps : du lundi au vendredi, de 9h à 16h
Deux séances de 90 minutes sur glace par jour
Formation hors glace axée sur le hockey
Activités de groupe hors glace
Invités spéciaux
Séances d'info sur la nutrition des sportifs
Activités liées à la psychologie du sport
Salle de classe interactive et visionnements
Formation pour gardiens de but
Présence d'un thérapeute du sport pendant l'entraînement
Cadeaux pour chaque participant :

Tee-shirt
Bouteille d'eau
Photo de groupe
DATES :
Du 23 au 27 juillet
Du 30 juillet au 3 août
Du 6 au 10 août

TARIFS (par semaine) :
275 $ jusqu'au 1er mars, 325 $ après le 1er mars
HORAIRE ET LIEU :

Du lundi au vendredi, de 9h à 16h
Complexe sportif de l'Université Concordia : 7200, rue Sherbrooke Ouest (quartier de Notre-Dame-de-Grâce)

SERVICE DE GARDE

Le matin, service gratuit de 7h30 à 9h
L'après-midi, service payant de 16h à 18h (35 $ par semaine)