History of the Hall Latest Inductees Find an Inductee Nomination Form
Sports Hall of Fame
Michel Blais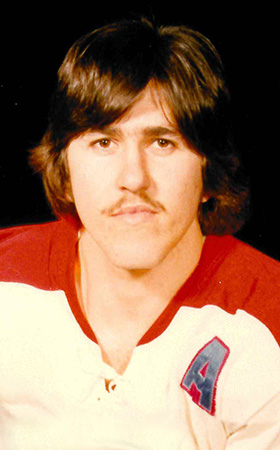 Inducted in 2017 as an Athlete
Institution: Concordia
Michel Blais is one of the most accomplished defencemen in the history of the Concordia Stingers men's hockey program. In his five seasons in uniform he was well-known for aggressive play in his own end, smooth skating and a powerful shot from the point.
Blais played 196 games for the Stingers, scoring 50 goals and adding 119 assists for 169 points. He was also the Concordia captain in his final three seasons.
A native of Amos, Que., he was highly decorated, earning all-Canadian honours in 1979 and conference all-star awards in 1979 and 1980. Blais was named the Concordia hockey team's rookie of the year, outstanding defenceman and team MVP over the course of his five years. He was also recognized as Concordia's Male Athlete of the Year in 1979.
The Stingers enjoyed great success in Blais' time, winning five QUAA championships and making four appearances at university men's hockey nationals.
Blais arrived at Concordia with an exceptional hockey résumé. He enjoyed a stellar junior career and in 1975 he was drafted by the NHL's Minnesota North Stars and the WHA's Indianapolis Racers. However, he chose to attend Concordia and pursue his education. He earned a BSc in Bio-Physical Education before embarking on a successful career in teaching.
Sommer Christie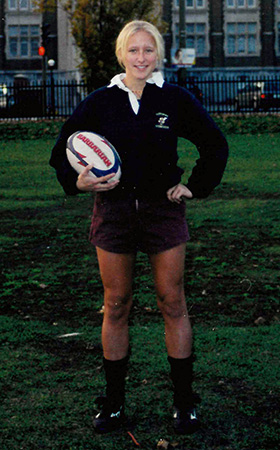 Inducted in 2017 as an Athlete
Institution: Concordia
Sommer Christie, a highly-accomplished scrum half with the women's rugby team, was the emotional leader and a driving force behind the Concordia Stingers' success for five seasons.
The Wentworth, Que. native was a five-time Quebec conference all-star and its MVP in 2002. She was a three-time all-Canadian and was named the top university athlete by Women in Networking, also in 2002.
Concordia honored Christie with a multitude of awards including Female Athlete of the Year in 2002. She was the rugby team's rookie of the year in 1999 and the team MVP in 2001, 2002 and 2003. She also received an award of distinction in recognition of her career achievements in 2004.
Christie was a team captain for four seasons and helped the Stingers reach the national championship tournament in 1999. She also represented Concordia and Canada at the inaugural FISU women's 7s championship and brought home a gold medal.
She was a standout with Team Quebec, the captain of Canada's U23 team and she was a member of Canada's senior national team, competing in two World Cups and earning 13 caps.
Christie was a three-time academic all-Canadian. After completing her undergraduate studies in Exercise Science at Concordia, she pursued a Master's degree in Human Kinetics and a PhD in Sport Psychology, Biofeedback and Neurofeedback. She works in the field of Mental Performance for elite athletes.
Greg Miller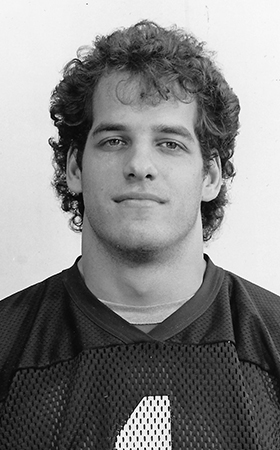 Inducted in 2017 as an Athlete
Institution: Concordia
Greg Miller is the first linebacker from the Concordia Stingers football tradition to earn a wide variety of prestigious honours, including entry into the university's Sports Hall of Fame.
An aggressive and tenacious player, Miller represented the Stingers for five seasons, including the 1982 O-QIFC championship campaign. The two-time team captain was the leading tackler on Concordia in his final two seasons.
The Toronto native was a two-time league all-star and a two-time all-Canadian, receiving the awards in 1984 and 1985. In his final season he was also named the conference's Defensive Player of the Year and was a nominee for the Presidents' Trophy, the national award recognizing exceptional play on defence.
Miller is the first defensive player in the history of the Stingers program to earn all-Canadian honors. After the 1985 season, he was also the first Concordia player to be presented the Montreal Alouettes Alumni Trophy as the top university football player in Quebec.
In 1985 he was selected in the sixth round of the CFL draft by the Winnipeg Blue Bombers. He returned to Concordia for one more season and completed a BA in Sociology. He went on to play fullback for three seasons with the Ottawa Rough Riders, the Hamilton Tiger-Cats and the Edmonton Eskimos.
Tom Smith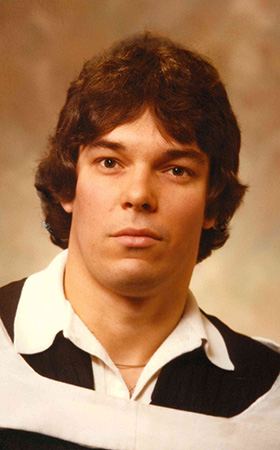 Inducted in 2017 as a Builder
Institution: Concordia
Concordia University has one of the most respected men's university rugby programs in Canada, largely due to the passion, vision and efforts of Tom Smith.
When he arrived at Concordia to begin his studies in 1976, there was no men's rugby team. Friends encouraged him to do something about it, and he did. Smith started planning, recruiting, looking for a coach and looking for funding - all without the help of the athletic department.
By the fall of 1977 Smith had pulled it together and the Concordia men's rugby club played its first games thanks to funding from the student union. The program continued to grow, attracting more players and adding more games. In the fall of 1979, men's rugby was accepted as a club team by the athletics department.
Now hundreds of young men have enjoyed the privilege of playing Concordia rugby, learning about respect, effort and the importance of academics.
Smith has stayed involved with the program for more than 40 years, taking on a variety of roles from player to administrator to coach. More recently he's served as a recruiter, evaluator and scout. Throughout it all, Concordia rugby has stayed close to his heart and remained a great source of pride.
He earned a BA in History in 1981 and went on to earn a Master's in Social Work in 1996. Smith has enjoyed a successful career in social work and continues to volunteer with a variety of sports organizations.
1998- Women's Rugby Team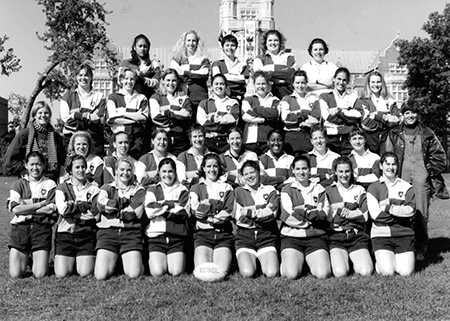 Inducted in 2017 as a Team
Institution: Concordia
In 1998 the CIAU, which was the national governing body for university sport in Canada, introduced women's rugby and announced that its inaugural national championship would be hosted by McMaster University in Hamilton, Ont., Nov. 13-15.
The opportunity to be in the historic championship was something for the 1998 Concordia Stingers women's rugby team to strive for, but it would be an uphill battle coming off a disappointing season in 1997 that saw the Stingers finished out of playoff contention.
Under the direction of head coach Sheila Turner, Concordia rose to the challenge. The Stingers completed the regular season with a strong 4-1 win-loss record and finished in second place. The only defeat was a 5-0 loss at the hands of their formidable crosstown rivals the McGill Martlets. Even with the loss, they outscored their conference opponents 172-13.
The Stingers defeated the Bishop's Gaiters 17-0 in the league semifinals, setting up a rematch with McGill for the Quebec conference championship and a high seed at the nationals.
The Stingers found themselves trailing the Martlets in the dying seconds of the game when rookie Chantal Hurtubise plunged over the goal line for a try to make the score 12-8 giving Concordia the provincial title.
In Hamilton, the Stingers defeated the St. Francis Xavier X-Women 15-0 in their opening game, but struggled in next three contests. Concordia finished fourth out of six teams at the inaugural championship.
The 1998 women's rugby team will always be remembered for its fierce determination and drive as well as for setting an incredible standard for all the Concordia teams that follow.
Team Members
Alice Li Roussel, Alison Piela, Danielle Hurtubise, Dia Hurtubise, Dominique Desroches, Erin Dance, Jennifer Bridgeman, Julie Boulanger, Laurent Frey (Arner), Margo Legault, Marie Valderrama, Olivia Frame, Rebecca Best, Sandra Lillico, Suzanne Babb, Christina Andreatos, Trish McKenzie, Sheila Turner, Monika (Conway) Wight, Lynda Domazet, Lucy Tran, Alexandra Bremner, Cristal Zavala, Christina Meaker, Alysha Donnan, Amy Buckland, Candace Patterson, Jessica Bickford, Annie Blyth Barfuss, Leigh Garland, Chantal Hurtubise, Victoria Jones, Laura Murray, Natalie Turner, Josee Lacasse
1961-1962 Men's Basketball Team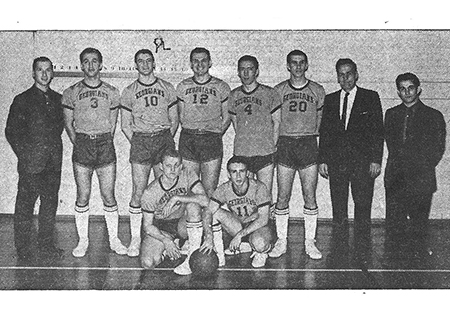 Inducted in 2017 as a Team
Institution: Sgw
The Sir George Williams University men's basketball program has a rich and storied history. There have been many great stars and accomplishments over the years, and the 1961-62 team had plenty of both.
For the first time in a number of years the Georgians defeated a couple of respected American opponents in exhibition play. They defeated Castleton State College 65-58 and Albany College of Pharmacy 70-44.
Sir George competed in the City Intercollegiate Basketball League and swept all games versus Université de Montreal and Loyola College, but struggled to get past McGill University, losing 57-52 in the league final.
The Georgians rolled up an impressive 11-1 win-loss record in Ottawa-St. Lawrence Intercollegiate Athletic Association play. Their only loss coming late in the season at the hands of the Carleton Ravens. On Friday, March 9, before a packed house at Mont St. Louis Gym, captain Willie Epstein scored 19 points to lead Sir George to a league championship defeating the same Ravens team 67-55. It was the third straight OSLAA title for the Georgians.
The championship capped off a great era in the history of Georgian men's basketball.
The 1961-62 team was coached by the legendary Mag Flynn, and this was the last season for the man who had been Sir George's coach since 1950. He left with an exceptional record of 155 wins and just 24 losses.
The spring of 1962 also marked end of the fine careers of Willie Epstein, Sy Luterman, Marty Lehrer and Soly Apel - four young men who had helped bring great glory to Sir George Williams men's basketball.
Coach Flynn had always been reluctant to name the best Georgian team and top players from his years in athletics, but when he retired from coaching in 1962 he finally relented. "You just have to go with the group of Epstein, Lehrer, Luterman, Watson and Apel and their staggering 47-5 record in Canadian collegiate competition of 47-5 over the last three years."
Team Members
Leonard Heitin, William Epstein, Andy Durocher, Seymour Luterman, Robert Habert, Martin Lehrer, Robert Watson, Theodore Shtym, Donny Scher, Solly Apel, Magnus Flynn