Hockey Program - Fall 2023
OVERVIEW: The aim of the program is to provide hockey lessons to children aged 5 and older. During practices players will be introduced to and taught the fundamentals of hockey. Lessons will focus on the development of skills such as forward skating, backward skating, stick handling, puck control, passing and shooting.
AGES: 5 years and older
DAYS & TIMES:
Group 1 – Wednesdays from 5:30 to 6:45 p.m.
Group 2 – Wednesdays from 6:45 to 8 p.m.
LENGTH: 10 lessons
START DATE: Wednesday, Sept. 27, 2023
END DATE: Wednesday, Nov. 29, 2023
LOCATION:
Ed Meagher Arena
7200 Sherbrooke St. W., N.D.G.
COST: $275 plus taxes.
REGISTRATION OPENS: Tuesday, Aug. 22, 2023
INFORMATION:
514-848-2424, ext. 5979
concordia.camps@concordia.ca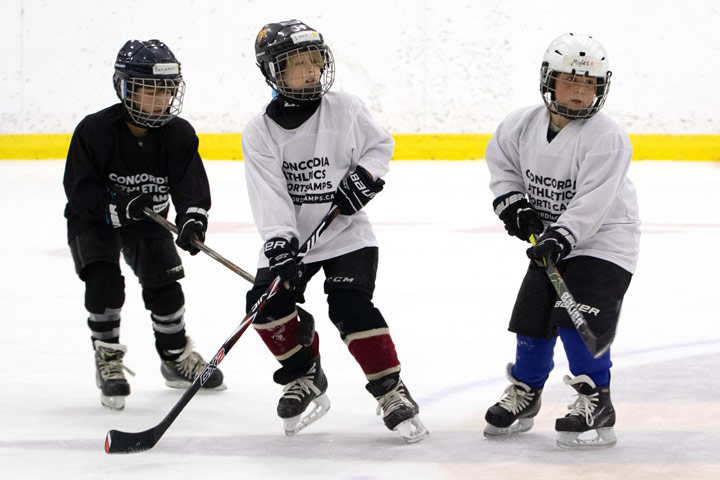 MANDATORY EQUIPMENT
Skates (if buying new skates ensure that they have been sharpened prior to the first lesson)
Hockey helmet with a full cage
Neck guard
Hockey gloves and stick
Note: A hockey jersey is included in the price of the program and will be provided on the first day of lessons.
RECOMMENDED EQUIPMENT
Shin pads
Hockey pants
Shoulder pads
Elbow pads
Hockey socks
All cancellation and refund requests must be submitted in writing to concordia.camps@concordia.ca
Partial refunds, less a $50 administration fee plus the cost of any lessons that have passed, will be granted within the first seven (7) days of the start of the program.
The deadline to request refunds will be Wednesday, Oct. 4, 2023. No refunds will be issued after this date.