2023 Hockey Summer Camp
Concordia Athletics Hockey Camp aims to provide children with a unique hockey experience in a full day camp setting. Practices will focus on the development of fundamental skills such as forward skating, backward skating, stick handling, puck control, passing and shooting.
Features:
3 hours of ice time each day
Instruction from members of the Concordia's varsity hockey teams
Hockey specific off-ice training as well as recreational activities
Aim for a camper to staff ratio of 5:1
Ages: 7-12
Dates:

Week 1: July 10 – July 14
Week 2: July 17 – July 21
Days & Time: Monday to Friday, 9 a.m. to 4 p.m.
Place:
Ed Meagher Arena – Concordia Athletics Complex – Loyola Campus. 7200 Sherbrooke St. W., N.D.G.
Cost: $400 per week. A hockey jersey, camp shirt and water bottle are included in the price of the camp and will be provided on the first day.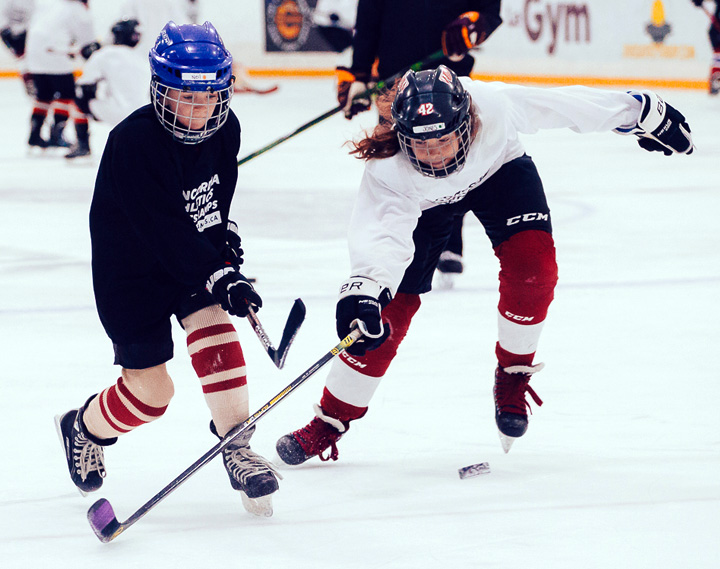 Required hockey equipment
Cold lunch, morning and afternoon snacks (no access to microwave or utensils)
A reusable water bottle
Running shoes (no sandals)
Extra clothes
Hat
Sunscreen
Skates (if buying new skates ensure that they have been sharpened prior to the first lesson)
Hockey helmet with a full cage
Neck guard
Hockey gloves and stick
Shin pads
Hockey pants
Shoulder pads
Elbow pads
Hockey socks


Equipment cannot be stored at the arena and must be brought home each day.
All cancellation requests must be submitted in writing to concordia.camps@concordia.ca
Partial refunds are granted, less a $50 administration fee per week of camp prior to June 1, 2023
No refunds will be granted after June 1, 2023
Please note that it may take up to 10 business days to receive the refund on your credit card
Registrations are not transferable from one camper to another
Registrations are transferable from one week to another based on availability only and by June 15, 2023
We do not take requests for groupings or pairings of friends