Soccer Camp 2020
The emphasis of this program is on the development of technical skills and learning tactical elements of the game through innovative coaching techniques. Camp will be staffed by Concordia students and varsity athletes.
AGES:
8-14, boys and girls
Groups will be formed according to age
Space is limited
PROGRAM FEATURES:

Age-specific training programs for all skill levels
Technical skill development

Agility and coordination development

Small-sided games

Tactical defensive and offensive principles
Positional play

Cooperative activities and games
All participants will receive:

DATES:

June 29 - July 3
July 6-10
July 13-17
July 20-24
July 27-31
Aug. 3-7
TIME & PLACE:
Monday to Friday, 9 a.m. to 4 p.m.
Concordia athletics complex, 7200 Sherbrooke St. W., N.D.G

COST (per week):
$250 before March 1, $280 after March 1.
Discounts for multiple weeks and campers available.
EXTENDED CARE AVAILABLE

Free early drop-off service from 7:30 to 9 a.m.
Late pick up service from 4:15 to 6 p.m.: $35 for the week
INFORMATION
514-848-2424, ext./poste 5979
concordia.camps@concordia.ca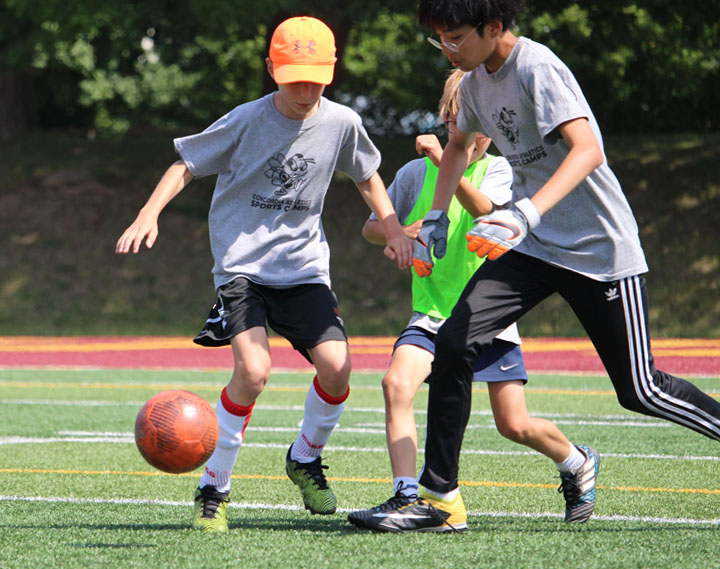 Camp de Soccer
Misant sur une méthode d'entraînement novatrice, ce programme met l'accent sur le développement des aptitudes techniques des participants et l'apprentissage des aspects tactiques du sport. Dans un environnement où ils pourront à la fois s'amuser et se dépasser, les joueurs profiteront de l'expérience d'athlètes de l'Université Concordia.
CLIENTÈLE :
Filles et garçons de 8 à 14 ans
Équipes formées par groupe d'âge

Avantages du CAMP DE SOCCER :

Programmes d'entraînement convenant à l'âge des participants, peu importe leur niveau technique
Développement des aptitudes techniques
Renforcement de la coordination et de l'agilité
Mini-matches
Principes tactiques de la défense et de l'attaque
Jeu de position
Jeux et activités stimulant la coopération
Cadeaux pour chaque participant :

Tee-shirt
Bouteille d'eau
DATES :

Du 29 juin au 3 juillet
Du 6 au 10 juillet
Du 13 au 17 juillet
Du 20 au 24 juillet
Du 27 au 31 juillet
Du 3 au 7 août
HORAIRE ET LIEU :

Du lundi au vendredi, de 9h à 16h
Complexe sportif de l'Université Concordia : 7200, rue Sherbrooke Ouest (quartier de Notre-Dame-de-Grâce)
TARIFS (par semaine) :
240 $ jusqu'au 1er mars, 270 $ après le 1er mars
SERVICE DE GARDE

Le matin, service gratuit de 7h30 à 9h
L'après-midi, service payant de 16h15 à 18h (35 $ par semaine)