Main » Inside Athletics » Athletes Of The Week
October 16, 2018 | Soccer (W) - Basketball (M)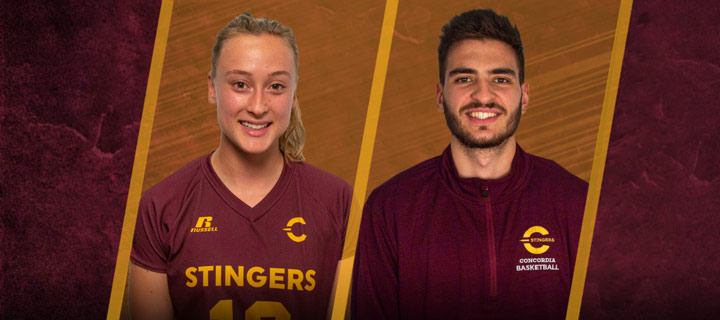 Kate Evoy, Olivier Simon - Athletes of the Week
Kate Evoy of the women's soccer team and Olivier Simon of the men's basketball team have been named the Subway-Concordia Stingers athletes of the week for the period ending Oct. 14.
Evoy, a second-year defender, had a goal and an assist in the Stingers' 2-0 victory over the Bishop's Gaiters last Friday night in the annual Erica Cadieux game. She was also solid in Concordia's tough 4-1 loss to the UQAM Citadins on Sunday.
A 19-year-old native of Calgary, Evoy is a Biology student at Concordia.
A third-year forward, Simon was dominant in his team's three games at the Carleton tournament in Ottawa on the weekend. He averaged 17 points a game and 9.3 rebounds over the three games. He had two double doubles, including 29 points and 11 rebounds in a 77-68 win over the Guelph Gryphons. He was named to the tournament all-star team.
The 22-year-old student from Terrebonne, Que. is working towards a degree in Applied Human Science at Concordia.
PREVIOUS WEEKS