Main » Inside Athletics » Athletes Of The Week
February 27, 2019 | Wrestling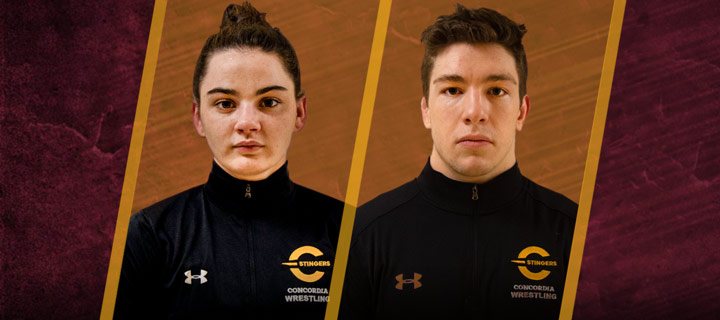 Jade Dufour, Alex Moore - Athletes of the Week
Jade Dufour and Alex Moore of the wrestling team have been named the Subway-Concordia Stingers athletes of the week for the period ending Feb. 24.
Dufour, a fourth-year Stinger, won her first gold medal at the U SPORTS national championship last Saturday. In the 51 kg weight class, she dominated three preliminary matches and then was awarded the gold when Brock University's Tina McLaren took three cautions and was disqualified in the final match.
This is the third medal for Dufour. She earned a bronze medal in 2018 and a silver in 2017.
With help from Dufour's strong performance, Concordia's women's team finished third at the championship.
A 22-year-old native of Lakeshore, Ont., Dufour is an Exercise Science student at Concordia.
Moore won a gold medal and was named the outstanding male wrestler at the nationals last Saturday. The second-year athlete dominated the competition in the 90-kilo weight class. In the preliminaries, he beat Sunny Benning (fall) from Fraser Valley University, Caleb Goodfellow (fall) from University of Toronto and Clayton Pye (11-4 decision) from Brock.
In the gold medal match, he defeated Hunter Lee of the University of Saskatchewan by a 12-0 score.
Moore's efforts helped the Concordia men's team finish in second place at the championships.
The 21-year-old student from Montreal is working towards a degree in Economics at Concordia.
PREVIOUS WEEKS