Main » Inside Athletics » Athletes Of The Week
November 20, 2018 | Basketball (W) - Hockey (M)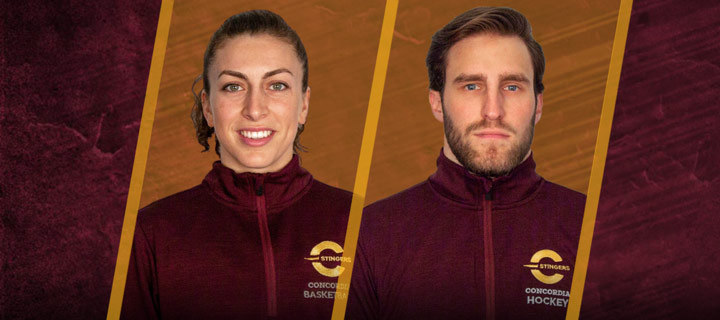 Caroline Task, Philippe Hudon - Athletes of the Week
Caroline Task of the women's basketball team and Philippe Hudon of the men's hockey team have been named the Subway-Concordia Stingers athletes of the week for the period ending Nov. 18.
Task, a third-year guard, stood out in her team's 64-60 victory over the UQAM Citadins last Thursday. The all-star had 19 points and three steals in the game. Task and the Stingers host the Bishop's Gaiters on Saturday at 2 p.m.
A 22-year-old native of Dorval, Que., Task is a Human Relations student at Concordia.
Hudon, a fifth-year right wing, was a key contributor in the Stingers' 4-3 shootout victory over the McGill Redmen last Friday. The team captain had a goal and an assist in the big win over the crosstown rivals. The Stingers are on the road this weekend and return home to host the RMC Paladins on Friday, Nov. 30.
The 25-year-old student from Hudson, Que., is working towards a degree in Finance at Concordia.
PREVIOUS WEEKS