Main » Recruiting » Athletic Therapy
Athletic Therapy
Staff
Sean Christensen - B.Sc., CAT(C), CSCS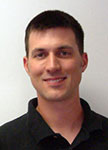 Sean Christensen
Head Athletic Therapist and Strength and Conditioning Coach Sean Christensen was hired in August 2005 as head athletic therapist and strength and conditioning coach at the Department of Recreation and Athletics. His duties include supervising the athletic therapy needs of nine intercollegiate teams, implementation of specific strength and conditioning programs, organizing doping seminars and doping awareness for 300 student-athletes and managing the varsity athletic therapy clinic.
Christensen graduated from Concordia University with a specialization in Biology in 1998 and with a specialization in Athletic Therapy from the prestigious Exercise Science program in 2002. He received his Canadian Athletic Therapist Association certification in 2002 and his National Strength and Conditioning Association certification in 2004.
Before joining the Concordia staff, he worked for three years as the head athletic therapist at Vanier College. Christensen also has experience working with amateur and professional hockey players at Painstation Inc., at international tennis competitions, with the Lac St. Louis soccer program and at rugby junior nationals to name a few.
Athletic therapy default for injuries and treatment
When an injury occurs during a practice or game, an immediate assessment is performed by the student therapist(s) on-site. The student(s) therapist will then decide whether a future assessment is needed or if the athlete may return to play. In the case of an emergency, the student(s) will active the Emergency Action Plan.
If the athlete needs a more in depth assessment, the athlete is responsible to check the therapy clinic for available scheduling. The student therapist(s) will help the athlete by offering to check the schedule and book an appointment immediately (for home games and practices). For away games, the athlete should come to the clinic at the next available moment to get their injury assessed. When in doubt, the athlete should get the injury assessed.
Once an athlete has seen a therapist (Head Therapist, or one of the clinical students), they will be told if they can practice or not; also if a doctor's appointment is needed. They will be told whether to book future appointments or not. It is the responsibility of the athlete to make sure future therapy appointments are booked. The therapist will help them, but the final responsibility falls to the athlete.
If a doctor's appointment is deemed necessary, the Head Therapist will assist in booking the appointment.
If an athlete fails to make an appointment after the student has offered to book one for them, it is the full responsibility of the athlete to make an appointment.
The time will be reserved for new injury assessments from the previous day. Please contact a therapist ASAP to avoid a last minute rush before practice. Please give at least ½ hour to perform the injury assessment. Athletes who can not attend therapy ½ hour before practice may be assessed during practice to determine injury severity and practice / game status.
Athletes who show up more than 15 minutes late may lose their appointment and must reschedule the appointment at a later time or date. Athletes who miss an appointment without notice will receive one 'strike.' Once an athlete accumulates three strikes, their therapy privileges may be revoked.
No treatment will be given during practice, unless the coaching staff has given clearance. The coach(s) themselves must relay this permission.
The use of Injury Zone, injury tracking software will be used to help track injuries. All coaches, Certified Therapists, and respective student therapists have access to this information (with respect to practice and game status) on an on-going basis. It will be the responsibility of the student therapists to make sure that their team's information is up to date, with the supervision of the Certified Therapists.
Concordia University Varsity Athletic Therapy Clinic
514 848-2424, ext. 3864