Main » Inside Athletics » Athletes Of The Week
September 18, 2018 | Soccer (W) - Football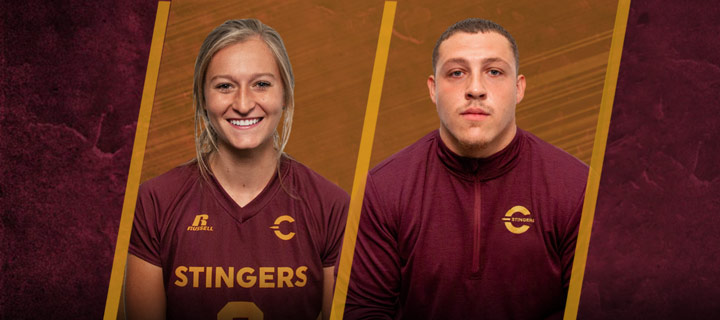 Madeleine McKenzie, Mike Sanelli - Athletes of the Week
Madeleine McKenzie of the women's soccer team and Michael Sanelli of football team have been named the Subway-Concordia Stingers athletes of the week for the period ending Sept. 16.
McKenzie, a third-year defender, stood out in two Concordia soccer games last week. She scored a goal in the Stingers' 2-1 victory over the Bishop's Gaiters last Sunday. She was also instrumental in helping Concordia stay close to the No. 2-ranked Montréal Carabins who eked out a 1-0 victory over the Stingers last Friday.
A 20-year-old native of Calgary, McKenzie is a Biology student at Concordia.
A fourth-year defensive tackle, Sanelli wreaked havoc on the McGill Redmen's offence in the Concordia Stingers' 33-26 victory in the 50th annual Shaughnessy Cup last Saturday. He had two sacks, a forced fumble, a fumble recovery and three batted balls. Sanelli currently leads the RSEQ in sacks with four in three games.
The 24-year-old student from Toronto is working towards a Certificate in Arts and Science at Concordia.
PREVIOUS WEEKS