Main » Inside Athletics » Athletes Of The Week
September 25, 2018 | Soccer (W) - Rugby (M)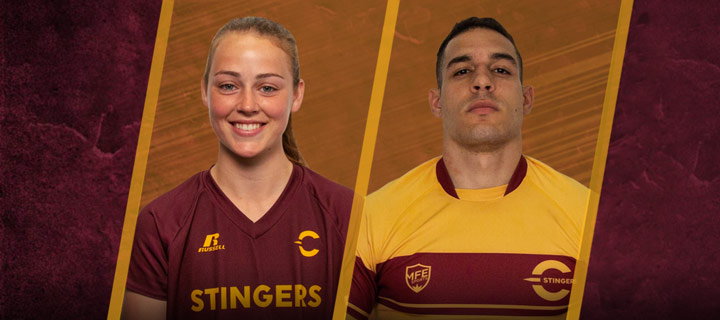 Humes, Laplaine-Pereira - Athletes of the Week
Sarah Humes of the women's soccer team and Michael Laplaine-Pereira of the men's rugby team have been named the Subway-Concordia Stingers athletes of the week for the period ending Sept. 23.
Humes, a third-year forward, stood out in two Concordia soccer games last week. She scored three goals and was named the game MVP in both games. Last Friday, she had a goal in a tough 6-2 loss to the Laval Rouge et Or. On Sunday she scored two more goals to help lead the Stingers to an impressive 3-0 victory over their crosstown rivals, the McGill Martlets.
A 20-year-old native of Pointe Claire, Que., Humes is a Finance student at Concordia.
A third-year hooker, Laplaine-Pereira was a dominating force in his team's 34-0 over the ETS Piranhas last Friday. He scored a try and was named the game MVP. He broke tackles and advanced his team with big runs. Head coach Craig Beemer also praised his defensive play.
The 23-year-old student from Montreal is working towards a degree in Software Engineering at Concordia.
PREVIOUS WEEKS