Main » Inside Athletics » Athletes Of The Week
October 2, 2018 | Basketball (W) - Rugby (M)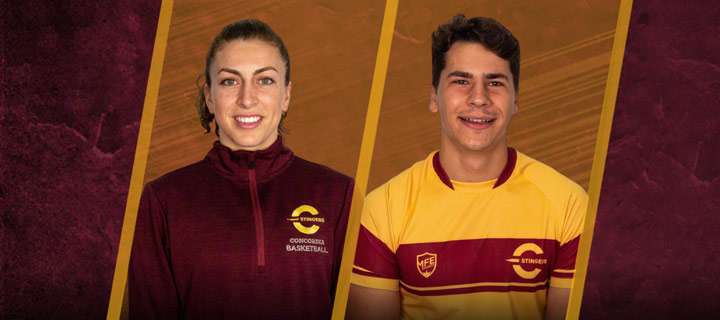 Caroline Task, Jackson Marquardt - Athletes of the Week
Caroline Task of the women's basketball team and Jackson Marquardt of the men's rugby team have been named the Subway-Concordia Stingers athletes of the week for the period ending Sept. 30.
Task, a third-year guard, stood out in Concordia's preseason game against the Lethbridge Pronghorns last Saturday. She knocked down seven of nine three-pointers in the contest. Overall, she scored 29 points in 19 minutes of play to help lead the Stingers to a 106-59 victory.
A 22-year-old native of Dorval, Que., Task is a Human Resources student at Concordia.
A third-year lock, Marquardt was a force in his team's 36-3 over the Montréal Carabins last Friday. He was dominant in the lineout. Head coach Craig Beemer says he also moved and carried the ball well in the game. With the win, Marquardt and the Stingers have a perfect 3-0 win-loss record.
The 19-year-old student from Ottawa is working towards a degree in Accounting at Concordia.
PREVIOUS WEEKS