Main » Inside Athletics » Athletes Of The Week
October 9, 2018 | Basketball (W) - Basketball (M)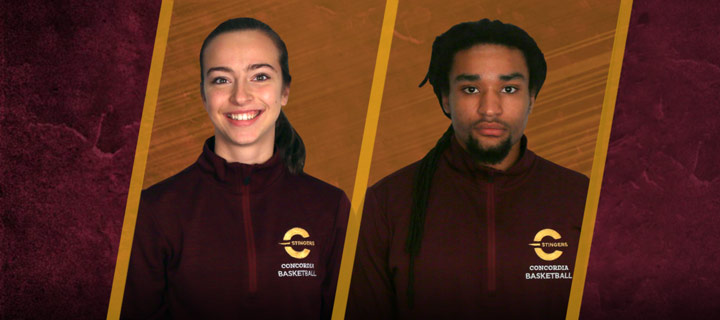 Myriam Leclerc, Adrian Armstrong - Athletes of the Week
Myriam Leclerc of the women's basketball team and Adrian Armstrong of the men's basketball team have been named the Subway-Concordia Stingers athletes of the week for the period ending Oct. 7.
Leclerc, a rookie guard, was named the MVP of the annual Concordia Classic Tournament on the weekend. Her strong play was instrumental in helping the Stingers win all three of their games and earn the tournament title. She averaged 17 points, five rebounds and six assists a game.
A 20-year-old native of St. Roch de Richelieu, Que., Leclerc is an Accounting student at Concordia.
A third-year guard, Armstrong was a force in his team's three games at the Concordia Classic Tournament. He averaged 18 points a game and was a 37-percent shooter from three-point range (13 of 35). Armstrong was named the tournament MVP, and the Stingers won the championship with an exciting 74-72 victory over the Waterloo Warriors on the final day.
The 21-year-old student from London, Ont. is working towards a degree in Urban Studies at Concordia.
PREVIOUS WEEKS