Main » Inside Athletics » Athletes Of The Week
October 23, 2018 | Basketball (W) - Football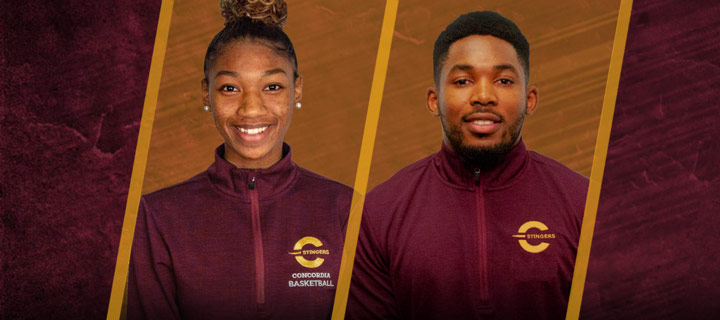 Nelly Owusu, Glody Musangu - Athletes of the Week
Nelly Owusu of the women's basketball team and Glody Musangu of the football team have been named the Subway-Concordia Stingers athletes of the week for the period ending Oct. 21.
Owusu, a first-year forward, was named the MVP at the McKeen Metro-Glebe tournament at Carleton University last week. She averaged 13.6 points and 8.4 rebounds to help the Stingers sweep all three games, including a 57-31 victory over the Carleton Ravens who are the defending national champions.
A 20-year-old native of Montreal, Owusu is a Child Studies student at Concordia.
A third-year running back Musangu earned head coach Brad Collinson's praise for his exceptional play in Concordia's 31-19 loss to the McGill Redmen. His contributions on special teams, where he had four key tackles, were inpressive.
The 22-year-old student from Vaudreuil-Dorion, Que. is working towards a degree in Mechanical Engineering at Concordia.
PREVIOUS WEEKS