Main » Inside Athletics » Athletes Of The Week
October 30, 2018 | Wrestling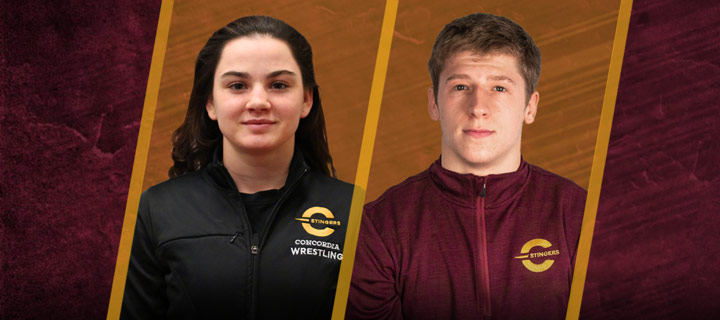 Jade Dufour, Samuel Garland - Athletes of the Week
Jade Dufour of the women's wrestling team and Samuel Garland of the men's wrestling team have been named the Subway-Concordia Stingers athletes of the week for the period ending Oct. 28.
Dufour, a fourth-year athlete, won a gold medal at the annual Concordia Invitational Wrestling Tournament on Sunday. She won the 59 kg weight class. Her performance helped the Stingers team pick up important points and win the women's competition.
A 21-year-old native of Lakeshore, Ont., Dufour is an Exercise Science student at Concordia.
A rookie with the Concordia wrestling team, Garland won a gold medal in his first university competition. He finished first out of six competitors in the 72 kilo weight class at the Stingers' annual tournament on Sunday. His efforts helped Concordia finish second out of 12 men's teams.
The 19-year-old student from Orillia, Ont. is working towards a degree in Communications Studies at Concordia.
PREVIOUS WEEKS