Main » Inside Athletics » Athletes Of The Week
December 4, 2018 | Basketball (W) - Hockey (M)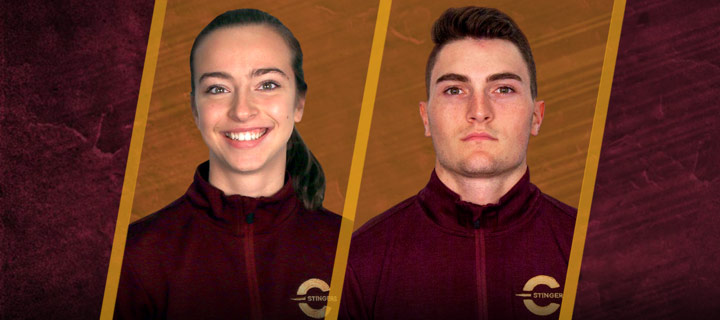 Myriam Leclerc, Hugo Roy - Athletes of the Week
Myriam Leclerc of the women's basketball team and Hugo Roy of the men's hockey team have been named the Subway-Concordia Stingers athletes of the week for the period ending Dec. 2.
Leclerc, a rookie guard, stood out in her team's 64-53 victory over the UQAM Citadins last Saturday. She had 25 points, six assists and three steals in the game. Going into the holiday break, Leclerc leads the Quebec conference in points (19.2) and steals (3.6) per game.
A 20-year-old native of St. Roch de Richelieu, Que., Leclerc is an Accounting student at Concordia.
Roy, a first-year centre, was instrumental in helping the Stingers collect two wins last week. He had an assist in a 4-3 victory over the RMC Paladins last Friday. The following night he scored four goals to lead Concordia to a 9-2 win over the Nipissing Lakers. Roy leads U SPORTS with eight power-play goals and he's second overall for goals scored with 14 in 16 games.
The 21-year-old student from Cookshire, Que., is working towards a degree in Finance at Concordia.
PREVIOUS WEEKS