Main » Inside Athletics » Athletes Of The Week
January 30, 2019 | Hockey (W) - Soccer (M)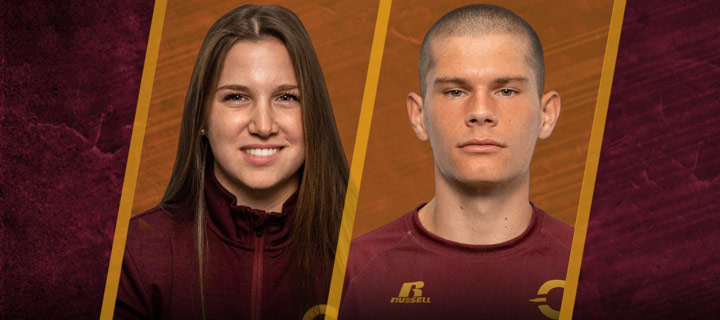 Sophie Gagnon, Peter Campbell - Athletes of the Week
Sophie Gagnon of the women's hockey team and Peter Campbell of the men's soccer team have been named the Subway-Concordia Stingers athletes of the week for the period ending Jan. 27.
Gagnon, a fourth-year forward, stood out in her team's two games in RSEQ action last week. She scored a goal to help lead the Stingers to a 4-1 victory over the No. 4-ranked McGill Martlets last Friday. Two days later she crushed it with two goals and an assist in a 5-2 win over the Carleton Ravens.
A 24-year-old native of Chicoutimi, Que., Gagnon is an Early Childhood Education student at Concordia.
Campbell, a second-year forward, is dominating in the RSEQ indoor soccer season. He scored a goal and added two assists in Concordia's 3-0 win over the ETS Piranhas last Sunday. The previous week he had a goal and three assists in a 4-0 victory over the McGill Redmen. With seven points in two games he is the leading scorer in the RSEQ.
The 22-year-old student from Guelph, Ont., is studying Painting and Drawing in Concordia's Faculty of Fine Arts.
PREVIOUS WEEKS