Main » Inside Athletics » Athletes Of The Week
February 20, 2019 | Basketball (W) - Hockey (M)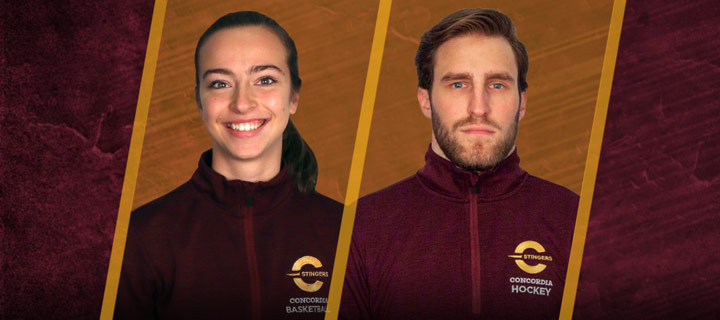 Myriam Leclerc, Philippe Hudon - Athletes of the Week
Myriam Leclerc of the women's basketball team and Philippe Hudon of the men's hockey team have been named the Subway-Concordia Stingers athletes of the week for the period ending Feb. 17.
Leclerc, a rookie guard, stood out in her team's two victories in RSEQ action last week. She scored 30 points, a conference high for the 2018-19 season, and added five assists and five steals to help Concordia defeat the Bishop's Gaiters 78-54 on Saturday. The win locked up second place and home-court advantage in the RSEQ. Two days earlier, she scored 11 points and had four rebounds and three assists to help the Stingers down the McGill Martlets 63-51.
A 21-year-old native of St. Roch de Richelieu, Que., Leclerc is an Accounting student at Concordia.
Hudon, a fifth-year forward and the team captain, played his last games in a Stinger uniform in the OUA East semifinal series last week. The Queen's Gaels swept Concordia in two straight games, but Hudon did everything possible to keep the Stingers in it. He scored two goals and added an assist in a heartbreaking 5-4 double overtime loss last Friday.
The 25-year-old student from Hudson, Que., is working towards a degree in Finance at Concordia.
PREVIOUS WEEKS