History of the Hall Latest Inductees Find an Inductee Nomination Form
Sports Hall of Fame Inductee
1968 Football Team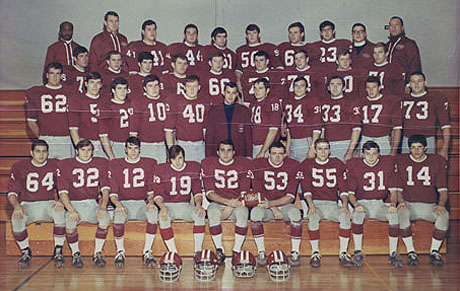 Inducted in 2006 as a Team
Institution: Loyola
In 1968 when George Dixon took over as head coach of the Loyola Warriors football program, the Loyola of Montreal Athletic Program came out with an article examining the enormity of this challenge. It was titled "Football: Nowhere To Go But Up". The author reported that "Dixon never took on a tougher job." It went on to point out the new coach had inherited an 0-10 team with the worst record in Canada and the worst record in Loyola football history.

Dixon was undaunted and implemented a plan that saw his team post a perfect 6-0 win-loss record and win the Eastern Division of the Central Canada Intercollegiate Football Conference. That year Loyola was the only undefeated team in the country. In six games they scored 201 points while allowing just 18. And only 10 of those points were scored on the impenetrable defence.

The Warriors travelled to Waterloo, Ont. to meet the CCIFC Western Division champions - the 5-1 Waterloo Lutheran Golden Hawks. On Nov. 9, 1968 in the light drizzle at Seagram Stadium the spectacular journey came to an end as the Golden Hawks downed the Warriors 40-0. Waterloo-Lutheran went on to win the Atlantic Bowl before losing in the national championship game.

Coach Dixon emphasized that football should be fun. He also preached the fundamentals - keep things simple he liked to say. In 1968, his Warriors were simply the best.
Team Members
George Dixon (coach), Tony Pajakowski (assistant coach) , Ken Dixon (assistant coach), Judd Porter (assistant coach), Pat Duffy (assistant coach), Claude Beaudry, Frank Belvedere, Layne Boivin, Kevin Butler, John Corcoran, John Cozzi, Pat Donvito (Donovito), Michael Dorey, Dwayne Dudgeon, Dave Golding, Rick Jones, Jerry Lange, Joseph Manning, Joe Manzoli, Brian Marcil, Bob Miele, Steve Niemirowski, Michael O'Neil, Les Pantel (Plantel), Stan Paris, Garry Plante, Daniel Russell, George Schwalb, Ken Sears, Ron Sekeres, Leonard Swanson, Mike Sylvia, John Tackney, Terry Whalen, Dave Wilson.