History of the Hall Latest Inductees Find an Inductee Nomination Form
Sports Hall of Fame Inductee
Paul Chesser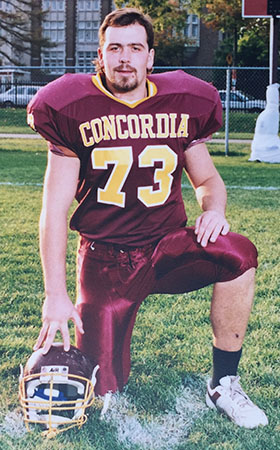 Inducted in 2016 as an Athlete
Institution: Concordia
Paul Chesser, an exceptional defensive end for the Concordia Stingers, was the first winner of a national award in the history of the football program. On Nov. 18, 1993 he was awarded the J.P. Metras Trophy presented annually to the outstanding lineman in Canadian university football.
Chesser was a significant contributor in all five of his seasons, but it was his senior year that saw him rise to national prominence. He was a first team all-Canadian and an Ontario-Quebec Interuniversity Football Conference all-star. He was named the most dedicated player on the 1993 football team and Concordia's Male Athlete of the Year in 1994.
The North Bay, Ont. native was a team captain in his senior year and helped the Stingers win the Dunsmore Cup conference championship and advance to the Churchill Bowl.
Upon graduation Chesser returned to the Stingers as an assistant coach for six years, including serving as defensive co-ordinator for three seasons. He earned a BA Economics and a Graduate Diploma in Sports Administration before embarking on a successful career in fundraising.